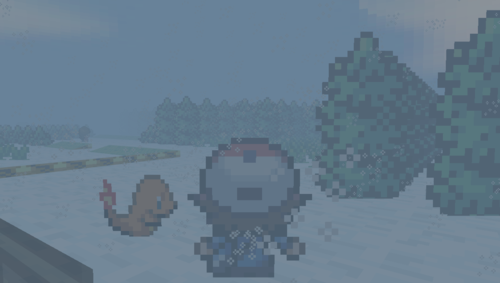 This week's version of Pokémon3D got a bit less content than the other ones cause Pokémon X and Y came out and the entire dev team and a few staff members played it to the max. It's awesome. Although this is a major distraction, we managed to make an updated version of Pokémon3D version 0.38: version 0.38.1. It contains mostly bug fixes but also some new features.
Here's the changelog:
Pokémon appear outside of the Daycare on Route 34.
added 3 new Pokémon models
changed the "Pokédex" emblem
new Guide Gent and New Barktown woman scripts
added Running Shoes (talk to Guide Gent in Cherrygrove City to get them)
Changed some moves and Pokémon data to fit Pokémon X and Y.
Bugfixes:
Private trade text misplacement in the GTS
[5235] Certain Pokémon cries crash the game
[5236] Safari Zone typo
[5238] Run away in Safari Zone
[5241] Crash when viewing a model in Habitat Mode
[5229] Stuck when using Fly + Repel
[5240] PC related bug
[5256] Waterfalls work incorrectly
[5255] Snorunt evolution bug
[5253] Unlimited Sunny Day TMs
[5246] Move learning bug #1
[5281] Lugia script crash
[5211] Move learning bug #2
[5258] Route 45 Empty Sign
[5215] Problem with Achievements
[5301] Two typos
[5309] Empty sign in front of Tin Tower
[5265] Zangoose's ability is wrong
[5269] Riding sprite bug
[5333] "Spikes" doesn't hurt switching Pokémon