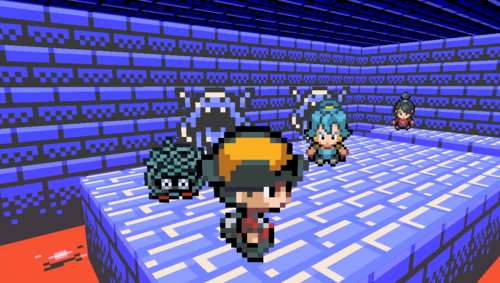 Pokémon3D is back with version 0.35.
This update took longer to finish than the other ones since I've been on vacations and had to do other stuff.
Also, we tried to fix as many bugs as possible and improve the flow of the game.
We did slight improvements to many maps to make them less laggy and also decreased the amount of data downloaded.
So here is the final changelist:
New features:
Added rods (Old Rod and Good Rod are available ingame)
Added multiple new items and TMs
Added Dragon's Den map and events
Added 8th gym
Added GameJolt based friend system replacing the old one
New weather types added
One new player emblem
Routes 47 & 48 added
Added more Pokémon evolutions
Added Mt Mortar F2 and "Karate King"
Changes:
Improved download speed
Added a "Please wait…" to the save screen to prevent data corruption
Improved the performance of some maps
Bugfixes:
Eggs receive experience through exp share
Ride, Surf and Fly disconnects from Co-Op
Items found with the itemfinder respawn / block other items
Woman on the third floor of the radio tower crashes the game when trying to give you TM 11 (Sunny Day)
Bred Pokémon don't appear in the Pokédex.
Fairy type related crashes
Pokémon do not learn moves or evolve from rare candy
Character sprite replaced by Pokemon sprite after surfing
Hatching multiple eggs at the same time causes the game to crash
Pryce gives players TM 49 (Fury Cutter)
Route 45 trainers crash the game
Route 45's 008.dat tries to open trainer 007 instead of trainer 008
Move Deleter Crash
Grunt underground has too far of a line of sight
NPC in Blackthorn market is misplaced
NPC in Blackthorn has no dialogue
Mary gives unlimited Pink Bows
Team Rocket Grunt remains in Radio Tower.
PP-Up doesn't work
Pokémon's stat calculation is determined wronly
Fixed crash in Ice Path
Fixed typos
We probably added more stuff and fixed more bugs we don't recall. So be prepared for some extra features to discover.
We hope you have fun with this new update.
//The Pokémon3D team.
To get more information about the game, talk to the community and share your stories, images and videos, go and visit the official forum on pokemon3d.net. We are awaiting you ;)