Edit: The original conversion was called Somewhere In The Heavens. It was by Astro tSD and others.
If you are old enough to remember Bungie's early titles then you should remember Marathon. If you don't then it was like this: Halo minus the vehicles, on spaceships with three computer AI's and a pretty deep story told through console terminals in the game. All on a Doom-esque game engine. You think good story arcs came around with Half-Life? This series did it first. There were three games called Marathon, Marathon 2: Durandel and Marathon: Infinity. If you want to know more about that En.wikipedia.org will tell you all you need to know, or you can go to Marathon.sourceforge.net and download them from there.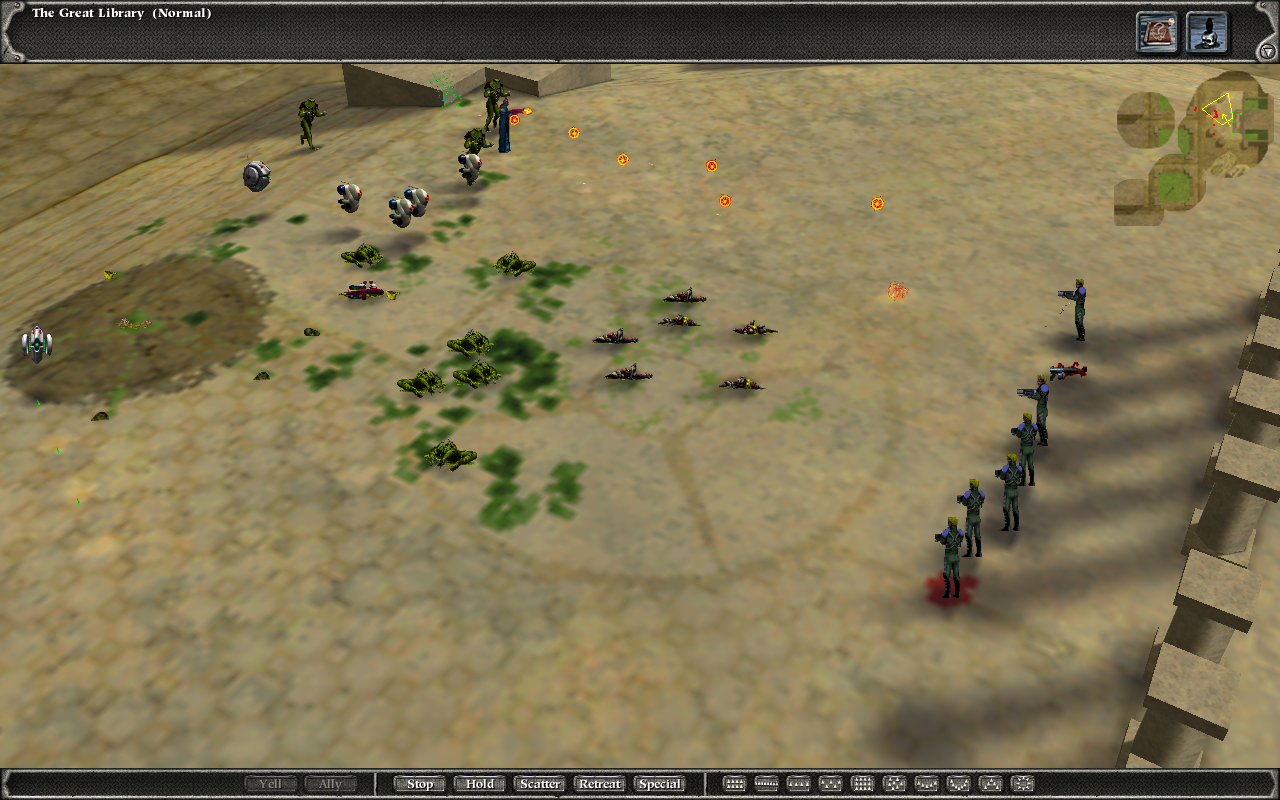 This mod attempts to bring over the characters from Marathon into the Myth universe, is playable in Single Player Myth II via the unit tagset and Multiplayer via the tagset plus some custom maps. I haven't actually gone in and done the Multiplayer side yet as I mostly just stick to single player. As a result my units are changed, Journeymen for S'pht, Warriors for Security BOBs and archers for Science VAC BOBs. Dwarves and some other units are subbed for Marines who are more of a player controlled commando unit but are fun to run around with. If you have seen the other mod titled MaraMyth by TychoMax then you know roughly what to expect.

The Bad
So what is it like then? Well it's not without it's flaws...some of the attack activation ranges are pretty awful. Science Vac Bobs with their fusion pistols are hideously over ranged, while this can make them really good sentries and snipers (if they can see it they can shoot it) it does mean that with the AI as it is they tend to have a habit of shooting your own units in the back. Including each other. Remember the Dwarves shouting 'You idiot!' when an archer shot them accidentally? Well if they were in this mod they'ed be pretty much spamming it it through the game. S'pht Have a similar habit, with longer range, and the worst at it are the flying drones. If you get them then put them somewhere they can do no harm. Or just friendly fire them yourself (if you choose to do the latter remember they can heal and fly which are two very useful tools). Overall balancing needs some work, it's too easy to massacre the enemy once you are used to the game and the units have some range and shot power...issues that mean you can just trash whatever comes your way. And yourself on Legendary and Heroic difficulty. Compare that to the Marines who have the shortest (non mele) range and you'll get frustrated when they fail to react to a large mob of Pfhor units coming their way. To be honest though that's all the gripes I have with the mod!

The Good
There are lots of good things about this mod, most of all it is a lot of fun. Unlike regular Myth it's a lot faster meaning you have to throw a lot more attention to what is going on, you also need to throw some practice into knowing when and where to switch play speeds. This is easy to get used to and it also makes the game good as a quick time filler, no level takes more than half an hour in reality and with todays super laptops (I'm on an Intel MacBook) this makes having a quick play on the train or on a lunch break a reality. Secondly the different ways you can play are good too. For example, as much as I have just slated ranges and balances you can happily drop to half speed and throw the Marines to one side in order to run a fairly close range formation shoot outing. Most shots are fairly accurate, meaning they go in a straight line and hit the target. On those levels where hordes of Thrall were on your tail you now have a realistic chance of taking them out, but bear in mind if they had minders those'll be subbed for other units. It keeps you on your toes, you can't just stand and blast with a line of Science VAC BOBs all the time, do that and the you'll probably get taken out by a couple of troopers you weren't expecting (they are the enemies equivalent to marines).The other way you can play is to dump all your units to the back of the map and solely play with the Marines. These units have a short self defense range which means if they are attacked they'll wait till enemies are practically on top of them. On the flip side they are insanely fast, like litte armoured Usane Bolt's with assault rifles, ideal for running around flanking opponents before slapping their grenade launcher into the mix and pegging it out of the way of return fire. They also have the unique ability to pick up weapons dropped by fallen enemies. Things such as the Alien Weapon which shoots fireballs, the Deconstructer that shoots plasma balls and the mini tactical nuke launcher which will give you 5 rounds of good night Vienna! These pickups are probably the most balanced of the game, they have the same maximum range regardless of whether you or the enemy have them, what's more the marines will use them at maximum weapon range if they start auto attacking the enemy after you order them to attack one. They won't make those little commando's invunerable and unstoppable but they're certainly going to do serious damage. All pickup weapons are well balanced, either through a mix of refire rate and shot power or due to having limited ammunition. While some of the latter such as the nuke and mortar should be used wisely, the others you should enjoy to the full.The third way to play, which I rarely use these days, is to mix your marines in as close range sentries. It can work but it's hit and miss. Mostly miss as by the time enemies are in range of the marines everything else has taken it out. Or killed my Marines. Either way, if you are going to combine things use a mix of the first two ways, slow the game down and set up your lines then flank and fight with the Marines in a commando style assault. It works, but watch where your BOBs are shooting.

The Hilarious
Playing at normal speed on Legendary difficulty on levels like The Wall and Twice Born. The amount of damage, friendly fire incidents, explosions combined with raging round with a bunch of Marines is some of the most fun anyone can have. Sure there are times when you get serious about completing a level with no casualties and things can tick you off, but just sitting down and blowing stuff up like Balin taught you is fun in itself. The units also take precident over the Wild West Plugin Tagset, meaning you can have the insanely destroyable scenery and the worlds most trigger happy and destructive units in one game!

The Verdict
In all, despite it's flaws, I find this a very good single player tagset. It has enough carnage and replayability so you can go over things again and again, enough inadvertent comedic moments to keep you chuckling away for hours. I can also see the Vac BOBs becoming a new mutiplayer Recon Elimination style heros in a similar map. Yeah, it's well worth the download.

Note: There will be infrequent updates throughout the year. I don't know how many parts I'll put up, I was aiming for twelve so one a month till the end of the year. If you go and look at the downloads section there's a Creation Games pack there. I haven't had chance to check it still works, I will do soon. I'm open to PMs, if you have something that you think I should put up then send me a link. Links to the tain page or magma pages are ok, but if it isn't there stick on an ftp or something and send me a link. And there is nothing to stop you guys pitching in either so go ahead. It's not my game or works being uploaded.