I remember one night I was sitting on BNet. That was Bungie's list of rooms and servers that would help you match make and find a game online. I'd been trying to find someone who'd play a new map with me. The first person I had tried came out with "Mods make the game crappy!" I thought it better to find someone else. "Everyone's playing Recon at the moment" was the reply "go and download it, everyone's playing!" This was at least partly true, everyone excluding the people on the demo (mods won't work with that) and Mr. Happy I'd asked before, you just couldn't get a regular Match. Or any other.
WWII: Recon by Santa's Head & Clan Plaid
This map in it's little zip file is the original map that stormed the online Soulblighter community way back when. It's hard to explain because it's one of those things that was just so well polished and effective though terribly simple. You're in control of a number of little soldiers and they have bayonetted rifles. They can run around and stab each other if close enough, or they can shoot each other at long range. There are med kits, grenades, mortar rounds and other bits around the map, you can use them too. There are various normal myth type objectives available. One variant is special though, because it is pretty much the be all and end all of Recon. The game type is known as Elimination and the idea is simple; take yourself and your soldier and duke it out till only one survives.

Axis vs Allies Mega Pack by Zeph
So after WWII came maps and maps and a solo plugin. Most of the maps were pretty good, though this in part down to Recon and Titans being done so well. Then came WWII: Mythical Solos which wasn't so good and was badly balanced. And it replaced mostly harmless baddies with very harmful grenadiers who would nade spam you on Willow Creek. The fact of the matter is that originally most people had probably seen AvA on The Mill, which the old community file site, or heard of it from someone blabbering in pre-game chat. Low and behold the Mill went down in one huge crash and never recovered, tons of files were lost and most people didn't get to play it. Shame really, as a lot of people had been waiting for things like Seventh God, Jinn, Alien Dark Tide and were sitting around playing Recon when not checking to see if they were released. Well, maybe that's not quite accurate...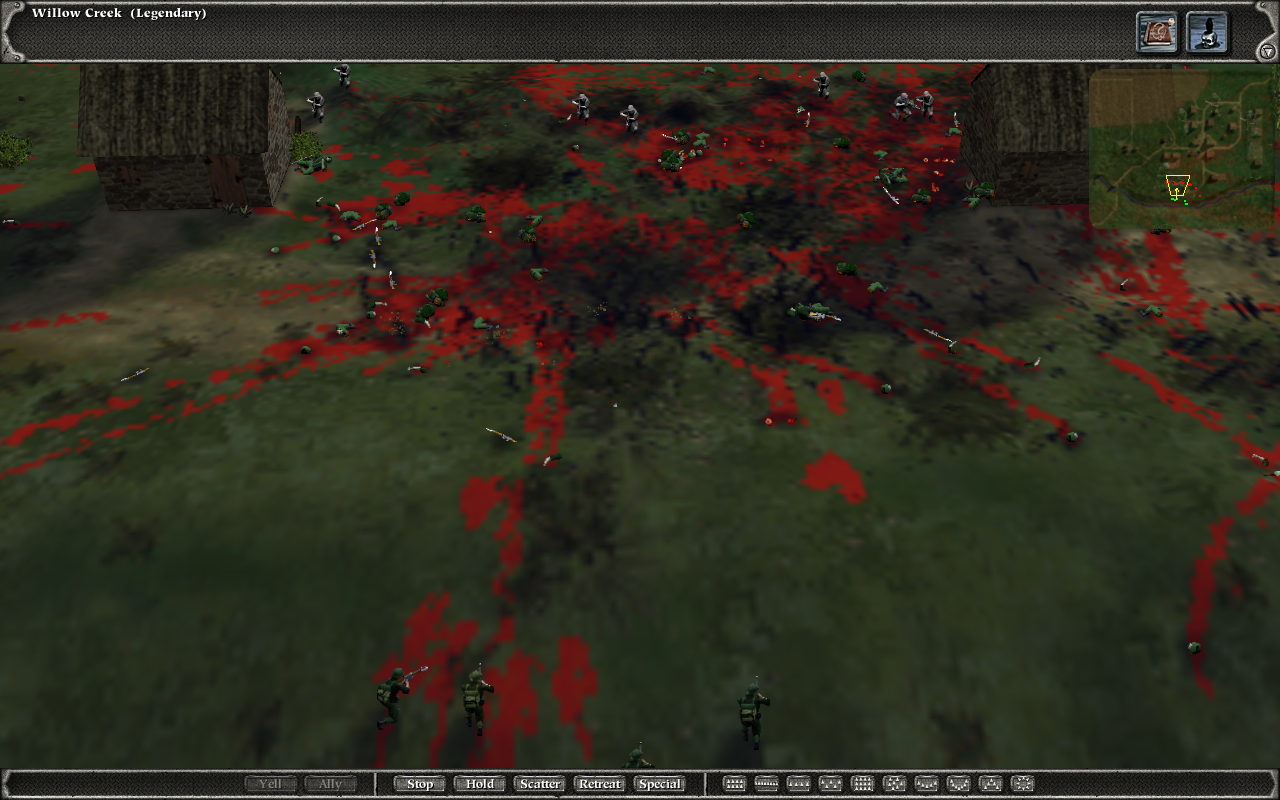 So when Project Magma came and started updating and improving TFL, Soulblighter and The Wolf Age the original (i think) creator came along and resurrected it. Well I say original, it would be unfair not to point out that lots of bits are repurposed from Recon and Titans. All with credit and permission from Santa's Head of course. And Ozone. And Remedial. And Sk8ter4Life. Then everyone started play AvA as opposed to Recon. in fact I remember a post on the Tain's forums complaining about people playing AvA and not Recon.
So what just is AvA? It's a rebalanced set of maps and tagsets that seriously changed the gameplay in WWII maps, it gave you different units as opposed to having to pick up items in, it was more balanced in terms of damage/cost/speed/health, it was more sensibly put together in terms of which unit replaced which for the tagsets in solo and regular multiplayer. It's also been designed to fit with the Special Forces 2 mod so you can play on those maps too.
Overall
Recon is a classic. It is very hard to best that. AvA is more of an attempt to expand and increase the complexities that come with the style of play. You have the near complete AvA experience in the zip files, you also have the classic that is Recon.
Historical Notes: There was a plugin that came out not long after Recon called Titans. It introduced tanks and nobody played it much, namely because we were all playing Recon. Santa's Head was trumped by his own success with that one.