The mod War in Tamriel will be set between the events of Oblivion and Skyrim.
As you may or may not know, between Oblivion and Skyrim there is a massive time jump, which involves a massive war: "The Great War".
The instigators of the Great War are the Thalmor, a cult of high gravitas in the Aldmeri Dominion. Indeed, in just a few years the Thalmor (picture elf nazis), believing in Mer supremacy, have invaded half of Tamriel. The kingdoms of Valenwood (Bosmer), the Black March (Argonians), Elsweyr (Khajits), Morrowind (Dunmer) have fallen prey to the Aldmeri Dominion, who have instored their own regency there. Only four countries remain to fight: Hammerfell (one of the main fronts and a main target of the Thalmor), Cyrodiil, and the provinces of High Rock and Skyrim. There is a war between the Thalmor and the Emperor Titus Mede II and the main leaders of all four countries.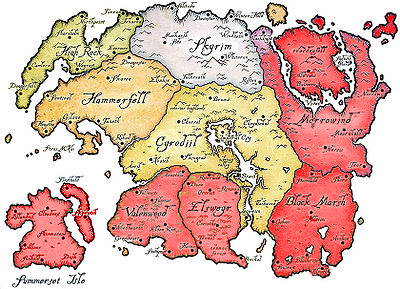 In red, the Thalmor and their colonies, in colour, the four resisting nations.
How did this conflict start?
After the Oblivion crisis (which really weakened the Summerset Isles), the Thalmor decided it was time to take action. They evolved from a political party into the leaders, and organized a coup in Valenwood and the Summerset Isles, proclaiming themselves as the Aldmeri Dominion. They then started to invade other territories: mostly non-humans and other Mers territory. Those who opposed them died, the others were bent to their sick cause of Elf Supremacy.
Only four remained: the provinces ruled by Emperor Titus Mede II. Titus, who had sent Blades all over Tamriel as spies to suss out what was going on, recieves the heads of 100 Blades in a cart brought by a Thalmor messenger, saying that Tamriel will fall unless he disbands the Blades, bans the worship of the God Talos (whom the Thalmor abhor) and give Hammerfell to the Aldmeri Dominion, and live as the Dominion's Vassals. The Emperor refuses, and declares war.
There is combat on every front, two huge powers collide. Which side will you be on?
The choice is yours in War in Tamriel.