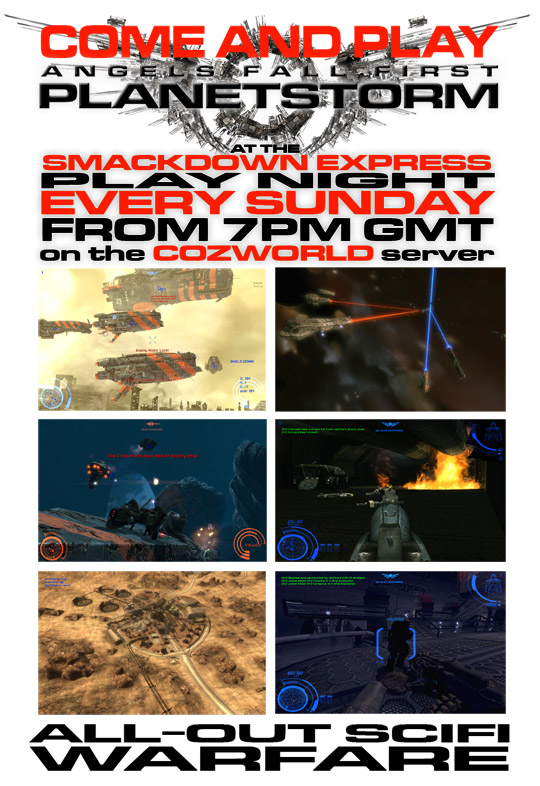 Many of you have moaned about having nobody to play with. The answer is simple! bring your friends!
We play a regular playnight every sunday from 7PM GMT onwards, and with the new RC8 release its better than evar! At the very least we, the dev team, pledge to be available to shoot in the face every Smackdown night.
For the uninitiated, AFF:Planetstorm is a scifi FPS shooter combining the best features of BF, COD and QW with the awesome innovation of being able to crew and operate massive capital ships in full first person. Fight in Space! Fight on the Ground! Shoot, Snipe, Defend, Attack, Roll out with tanks or take a dropship and go board the enemy's flagship with a squad of marines! its up to you!
Choose from an awesome arsenal of kit, weapons, vehicles and spacecraft and take the battlefield whichever way you see fit.
AFF:Planetstorm is currently a mod for Unreal Tournament 3, but we're in the process of porting it to Epic's UDK engine for a standalone release. The next game will be bigger and badder, but the current one is pretty big and bad! Come and support us by capping our asses every sunday! (although our server is online 24/7 if you want to play any other time)
For more information, see the Planetstorm Forums or the Angels Fall First web site
The status of the server can be viewed here -
Many thanks to
CozmicShredder
for the continued loan of his server.