Torrent for the file available if Gamefront is down again:Pathea.net
Thanks to everyone playing through a0.4, we were able to catch lots of bugs. In a0.41, we've fixed most of them. However, we're still getting a few bugs that we know exist, but are having a hard time replicating, they include suddenly running and not stopping (not autorun), and some invisible surface blocking parts of the ui sometimes. A0.1 is avalaible in the downloads section.
Here's the changelist of what we did:
- forest and terrain plants have a new lod system, looks a ton better now (if you pick fantastic).
- new grass type in grasslands
- most grassland flora in (except for 2 types)
- bug fixes for a lot of things
- the red korona is now at 2500HP
- bullets/arrows can be made, 3 per block of iron or copper
- bullets/arrows can be equipped in its own little ui block now
- bullets/arrows shows up right above the quickbar, no bullets and guns are useless
- tweaked player animation for holding guns while moving and holding bows
Planet Explorers Alpha 0.4 Adventure Trailer - Indie DB
Next up is alpha 0.5, to us, this is the version where the game actually starts to take shape. So far, we've been completing the tech and world design, now we'll start to focus on completing the game. This will be a big update, with many, many things added.
We will be doing a Kickstarter for this project in early January. We'll need everyone's help to complete the project the way we want to. Alpha 0.5 will be available to basically anyone who contribute at any tier in the Kickstarter at the end of January. We think we're arriving at the point where the game is actually worth something. For the people who still want to try out the game but don't want to put up money yet, we'll put out demos every few months.
The changelist for a0.5:
For sure
- full driving vehicle creation (tanks, cars, etc)
- multiple muzzles on guns, more types
- creation trading, outside of game
- rivers and lakes
- better looking terrain
- more turret types (artillery, missile, and laser)
- longer story, many more characters and missions
- better player ik, probably with some physics, ragdoll
- more species
- more locations
- full map interaction (jump to already visited locations, place markers)
- 3D mineral scanner
- caves everywhere
- surprises
Maybe
- bomb creation
- bombs
- multiplayer
- infinite procedural adventure and build maps
- more weather types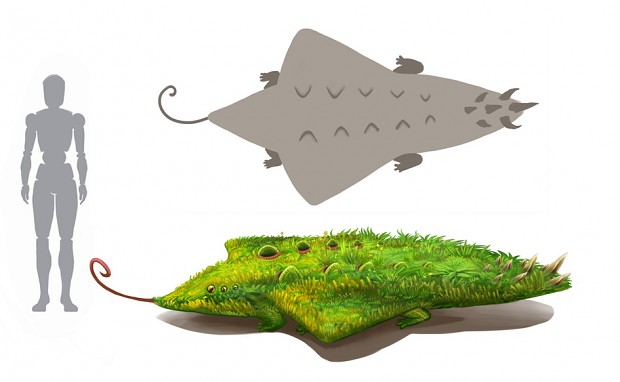 We'll be working hard! I'll have more information on Kickstarter as we get closer to the date, we'll have a trailer of 0.5 ready for it, and parts of it will blow people away (if we pull some stuff off, no pressure, haha).