Interstellar Game Studios releases a big update for Mad Squad with all-new cinematic trailer and a new demo for up to 4 players. Mad Squad is a physics-based, 2.5D, Co-op Action-Platformer, currently running a Kickstarter and Steam Greenlight campaign.
"The controls are sharp, the theming is colorful, and the physics are so damn hilariously wonderful," said Youtuber, Twitch Streamer, and voice-actor Old Man Cricky. "There were parts where it was glitchy of course, but if its physical based, I love it even more. For a game in Alpha, it delivers it's potential to the players very well."
In Mad Squad, you take on the role of a special forces unit with a dog, on a mission to save the world. You move through a voxel-themed world with realistic physics, from left to right, and encounter NPCs that forward the storyline in a funny manner. The game also has some Beat-Em-Up elements. Each character has its own set of attacks and you can charge energy blasts, to push objects, enemies and the players themselves.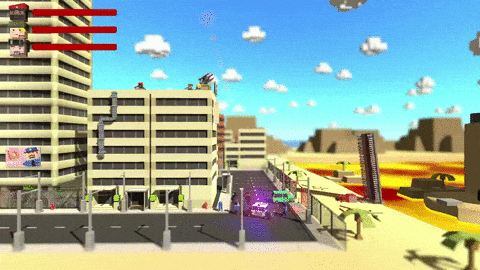 The update delivers a new action-packed trailer plus demo, presenting Mad Squad in a much more favorable light. Literally, the lighting was changed. The rendering was also improved by switching from forward to linear, resulting in much better colors. Fast scene cuts, cinematic dubstep music, voice narration, and a lot of explosions make the trailer entertaining to watch. With a runtime of only 90 seconds, it follows the unwritten rule of indie game trailer magic.
​
Mad Squad is an indie game, developed by Interstellar Game Studios. It is currently running a Kickstarter campaign, that ends on So, 6. Sep 2015 05:35 CEST. The game is on Steam Greenlight and has a free demo available. The official release is planned for early 2016 for PC, Mac, Linux, Playstation 4, Xbox One and Wii U.
Get the PC demo for up to 4 players at indiedb.com/games/mad-squad.
Interstellar Game Studios is the alias for the game developer Reinhard Zach, based in Vienna, Austria.
To find out more visit:
Web: www.InterstellarGameStudios.com
Kickstarter: Kickstarter.com
Steam Greenlight: Steamcommunity.com