I̸͈̅̔̂t̵̥̓'̵̭̀s̷̙̕͜͜ ̵͓̊́͠b̷͙͒e̷͌ͅẻ̴̜͙̖̍ǹ̴̛̖̩ ̵̮̜̯͘ā̸̯ ̶͔͚̭̀ẁ̵̼͛̓ͅh̷̩̉͊i̶̧̛̿̀l̶̢͉͛è̷̪̹͑͂.̸̡̩̥̂
I've got a couple of teasers for you guys.
Since I got a lot of work to do for school and I've been demotivated recently, there hasn't been much progress. Take this, I guess.
Do I really need to say more? ... I hope you're content because this is probably the only time in a while you're going to hear from me.
... who is it behind this nonsensical wall of text, you ask? I wonder too.

*Bleh.*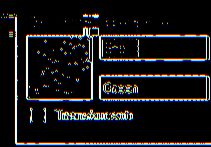 I think I have breathing problems. Do I even breathe?
*Gargle.*
How do I explain this? I'm just sick.
I apologize. I might take my leave.