Back On Track!
---
It has been 10 months since you heard from us the last time, and probably you thought Sonic, our racing mod for Crysis, is dead. In this news post, we present what we were working on the past months: big changes have been made to make a game out of the mod.
New Engine!
---
When we first heard of UDK in January, 2010, we knew we had found what we searched for: a flexible, up-to-date, high quality engine which would allow us to make things even better, and in February, we finally decided to make the switch. Sounds easy, but it wasn't that simple. A new engine structure had to be learned, and for 5 months, we were doing nothing but taking the engine apart to see what we can do with it. We gained experience in how to take the content to the enging in a way that allows us to keep things easy, and we had to learn what UDK likes and what it does not like at all.
As one of our main points was "Performance" when switching to UDK, we were working hard to archieve a good look with as little performance cost as possible, and we now use every small trick that makes UDK run faster, because we believe in "PWBANPC".
"PWBANPC"?
It means "play without buying a new PC", and it stands for just that: Awesome performance and visuals, no matter what. We are sick of having to get new hardware every year to be able to play new games, and so we decided to create our game with a sharp eye on the game running smooth on 2009's hardware.
New Ideas!
---
In those 10 months we were silently reworking big parts of "Sonic" to make it become "PAZE", we had a few ideas that, as we see it, should be making their way into the game. In the following, all the new fellow guys who haven't heard of PAZE or Sonic yet, will get to know it pretty well ;).
PAZE is a exciting mixture of a Racing Game and a First Person Shooter, it combines the pace of an arcade racer with the action of an ego-shooter.
The Racing part:
This is the part that hasn't changed much: The cars are all inspired by modern, nowadays muscle cars, imports, and super sports cars, of which every car has got its own, unique steering behaviour. But here comes the new part: You will be able to select one out of 15 body kits to make your car a bit more unique! In total, there are 15 body kits which suit all cars very well :).
The Ego-Shooter part:
Now, we have a bunch of high-speed machines, where are the guns?
Imagine this: Every car has a roof window, and one gunner is looking out of said roof window, shooting the living hell our of the other cars and gunners! There won't be heavy weapons such as big cannons or nuclear bombs, but there will be a huge load of assault rifles, SMGs, Shotguns, Pistols, and you can expect a grenade launcher! Every weapon class has got its own attachments: Holographic Sights, customizable Ironsights, ACOGs, laser pointers and similar.
New Setting!
---
PAZE takes place 5 to 10 years in the future, not much has changed regarding car design and weapons. A incredibly rich man has bought several very exotic places, and hired a bunch of soldiers, racing drivers and such to be able to enjoy kind of a private, modern gladiator show.
The humans in the show wear expensive, lightweight armor which protects quite well, but due to packing too much weight into the cars, the founder hasn't included heavy steel plates when ordering the suits.
We already have finished one Environment to about 50%, though 50% isn't enough for us to rate it "presentable", so you'll have to wait for a future news update deadling with Environments ;)
We Tease You!
---
There has been much text, and it is time to show you some media! As this is a re-announcement news, there will be only one teaser shot, more to come in two weeks; we have prepared a lot!
The following picture is an ingame shot; we just added the black/white stripes and the logo. The tunnel scene itself has not been photoshopped or edited in any way: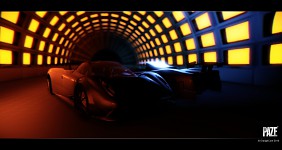 Some of you might think now "Fine, it's a screenie made in UDK, but I suppose the polygon count is extremely high to make it look better". Surprise! The polycount (around 15.000 for one car) is a real low one, current gamaes use up to 40.000 polygons per car to make the game look better. Also, the lighting you see in the picture is not standard UDK. IndependentSoul, our Tech Artist, has implemented a almpst-physically-correct light shading pipeline, to make the car look more realistic.
Alright, we're now at the end of the post; stay tuned, two more weeks until we reveal a bunch of awesome screenshots ;)
Hope you enjoyed reading this news post!
Cheers,
OrangeCore