Matt Diamond is pleased to announce that his award-winning game Pawns! is now available as a Universal app for iPhone and iPad.
Put on your thinking cap and save the pawns! Pick up keys, dodge checkers, and avoid capture. The pawns are counting on you to show them the way!
Features
- Over 50 puzzles, easy to mind-wracking
- Tutorial puzzles to get you started
- Award-winning gameplay
- No time limit- rewind each puzzle as many times as you need
- Runs in high resolution on iPads and retina displays
It looks like chess, but the pieces have a mind of their own!
The original game "Pawns" won second place in the Original Mac Games Cup 2005, and has also been used to teach problem-solving skills to students. Now it has been rewritten for the iPad and iPhone, with new gameplay and new puzzles.
Can you handle the challenge?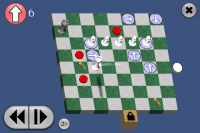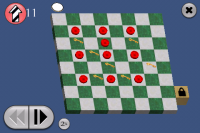 Pawns! on the app store: Itunes.com
Pawns! homepage: Mindthecube.com