Hey guys! I know it has been quite some time since our last update, and for that I apologize. We are not dead, but were close for a bit. School, Minecraft, Midterms, research papers, ect. took their toll on production. We have a single coder (me) with the occasional person helping out with events. Events are key to giving atmosphere. Without events, the world and game is pretty dry.
I've got several events put in already, and I am reworking some of the old ones to fit our new (and more effective) event format. Just to briefly touch on some of the more interesting ones....
Israel rebellion event set -> Comes with its full range of options, some of which allow the Americans or the Soviets to throw in their support....covertly, of course.
Algeria rebellion -> Similar to above, but much more violent.
Civilian disobedience -> Is it civil disobedience or the expression of freedom of speech. You get to choose, being the leader of your country and all.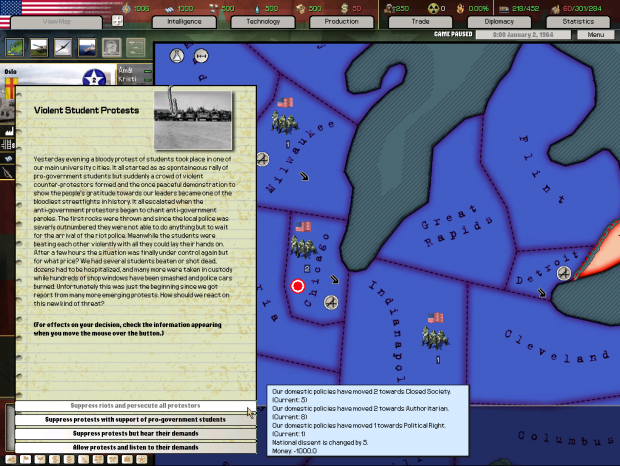 We are always looking for ideas for events. If you feel like you have a unique idea, or know of some 'Cold War' tensions that would have happened regardless of who won WW2, the drop by our forums! You can see the link on the right-hand side of our main page.
And with that being said, thanks for tuning in to another update of 1964!
Feuersturm,
Team '64