The Game
In Override you'll pilot a physics-driven massive robot in a completely manual way, controlling all of its limbs and systems. Up to 4 players can cooperate and pilot the same mecha all at the same time. Battle against huge enemies and rescue tiny kittens in a destructive sandbox city.
Watchbot is a giant robot powered by physics, designed to protect the city from invaders and help the citizens with the most mundane tasks. Games have always portrayed mechas as amazingly powerful machines that are incredibly easy to use in battle. No more! In Override a team of players must cooperate to complete even the simplest of tasks.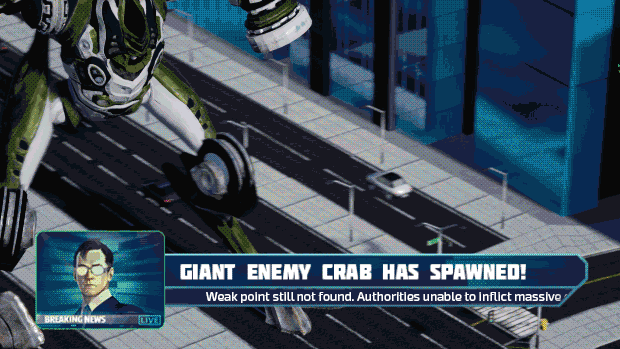 Highlights
Real Robots are made of physics - A robot should act on and react to its surroundings. Grab, throw, clash, slash, destroy and stumble on objects, weapons and enemies.
Manual Override - You have total control. Every movement and action is possible and each limb is in your hands.
Join the party - The game will have local multiplayer built-in since day one, supporting up to 4 players controlling the same robot at the same time.
A city to call yours - Explore and protect (or destroy) Risar City. There is plenty of room for you to play the hero.
Cancel the apocalypse - Be part of exciting battles against huge mechanical aliens. But don't forget the mundane (but not less important) tasks, like rescuing whales and "clearing" the traffic.
Enjoy the view - Greatly inspired by other works of the mecha genre, the visual evokes the action figure's style combined with a rich and detailed environment, enhanced by the magic of Unreal Engine 4.
Project Status
Override is being developed in Unreal Engine 4. We've been working on it for the past 5 months (June/2014), and already have a pre-alpha demo. Our methodology is to have a new build every two weeks to implement and test new features. We're constantly reviewing our work to achieve the best results.
The focus so far has been on building the toughest and most essential part of the project: the robot. The first video should give you an idea of what movements it's capable of doing right now. The next step is to expand its functions from the basics to more advanced ones, such as running, punching and kicking.
The game will feature a very lively destructive sandbox city. Its citizens will surely be thankful as you protect them even if you do so with complete disregard for the city's structural integrity. We have approximately 35% of the planned visual assets in their final versions, most of them taking advantage of PhysX's destructive capabilities. The magic that brings the city to life, simulating (basic) traffic and people, will come after our code wizards finish the robot.
Thanks to the brilliant design of Unreal Engine 4, our designers will be working hard to bring content and plot into the game while artists and programmers continue to do their thing. We plan to create a main storyline that can be played alone or multiplayer and a lot of side activities and tasks to keep you entertained. We're also designing the game around the idea that short and quick play sessions are essential to bring a nice party feeling into the game.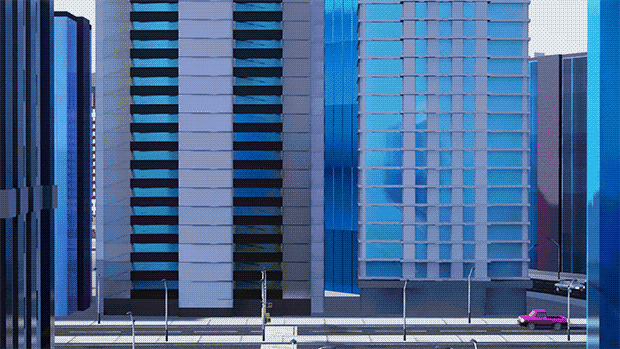 Release
Override will be available for Windows, Mac and Linux. The plan is to have an alpha version by the end of March/2015. The beta will come along by the end of July, and the final release is expected at the beginning of October.
Just making all these gifs was incredibly fun, we hope to release the game so that everyone can enjoy this experience. Thanks for your help and please help us spread the word!