First of all, apologies for the lack of updates throughout an entire year (!). I'm not really one to dwelve into the details here, as it was mostly caused by a couple of big changes (not mod related obviously), although it doesn't mean that no progress has been done. However, as I mentioned most of it has been done in the coding itself, and due to some disruptions in most of my weekends testing had been hard to schedule, even harder to get people in. Nevertheless, it's all better now, and we've got something to show. And it's not C++ code. ;)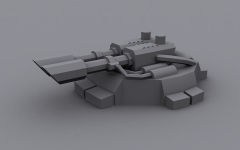 With Fuel currently on board new models and ideas are in. One of the newest traps is visible in the gameplay, although it's probably not that explicit as all of them are equally confusing when seen without playing beforehand. And even if you play beforehand. Thankfully, I'm making tutorial maps to make it much easier to get into the mod, although truth be told I myself end up confused by the chaos that can erupt during gameplay sessions. At any rate, we're going to post images/videos featuring Fuel's work, although we'll see how he'll fit it into his busy schedule.
What's next then? Well, a new map is underway (and I'm already excited to see people play it!) which will bring us to three or four total, depending whether I will manage to remake the initial map. More models underway, coding is pretty much done. Adding support for tutorials as well as additional entities for mappers, the only remaining major impending change is the addition of classes for the Ov, thus resulting in different playstyles for her as well. No more incoming traps however, they are only tweaked at the moment, we've ended up with fifteen divided into 3 categories. What's more to come? More testing, probably some more gameplay footage if there's need for some.
Finishing I might add that if you wanna help and are an experienced modeller or a concept artist you can give a buzz. Also, generally if you wanna help in any way or just wanna get in touch you can PM me straight away, will try to respond as soon as possible. :)