This week has been an exciting one for me, considering I have made some more legitimate progress. Seeing stuff in game is always so much more appealing than just planning to see it in game. And since I was picking up this project after a very solid 6 month hiatus, I needed to re-learn my work flow as well as what I had in mind for the story.
As my previous post shows, I've been using a new technique to help brainstorm and solidify ideas through freewriting. Suprisingly, it's been very helpful in turning up the exact problems I couldn't put my finger on before, and as a result, the story is much more fleshed out. Down to the character specifics of what each person should act like.
So what did I get done? Glad you asked that! I continued on the linear track of main storyline. Since I finished up meeting Zelda just before I moved, I needed to finish up talking to Impa for the first time. Impa's a cool character (well, Disces is a cool character... since that's her name in Timeless), so it was nice to see her character finally come out in reality. I don't know if it's common for writers to feel this way about their characters, but I've found that even though I have an idea of what they are supposed to act like, they still take on a bit of their own personality as I write them. Like I am seeing something that already existed come to fruition as I write it.
Looking forward, this is what I still need to get done before I release chapter 2. I am not going to finish up the side stuff yet, I'll work on those as I get burnt out on the main plot or in a second pass through everything. While I won't have a beautiful fully fleshed vertical slice to show off every release, at least I'll have the main plot done faster. Here's what I'm working on currently.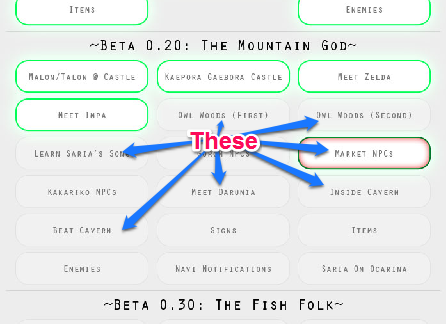 As always, you can check the progress on the Progress page.