Out Of Earth
Well, another update is now ready for Out Of Earth, and so far it has been very successful. It's all programming and a few new mapping techniques I recently did. Overall, it has been fun over these past weeks and I enjoy the progress being made so far.
Projected Textures and Lights - This was an amazing effect added into the Source engine. It allowed the light to cast shadows in realtime, rather then seeing non-movable compiled lights. This effect worked amazing however its main problem was allowing more then 1 at a time. This new addition, allows more then 1 projected texture/light to be shown. As shown in the video. With thanks to people at the Valve Developer Wiki.
I always felt that the muzzle flashes in the game was never enough to get the feeling, you were actually shooting in the game. Well this new addtion did that. An actual light will cast once the gun is fired, this applies to NPC's too. (This video is outdated, the colours have now been changed to match the muzzle flash) but please watch the video to get an idea.
Small Updates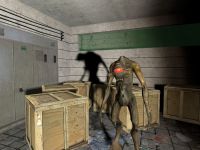 The character Xeth was a new addition to the mod. This character is the aid to Gordon Freeman (rather like Alyx). Xeth will have his own signature texture, such as markings. His description is described when the picture is clicked.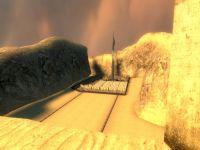 I did many City 15 designs, and so far this was the most successful. Of Course, the place where you see it has changed, and the landscape has also been changed so it suits it more better. A update will be soon.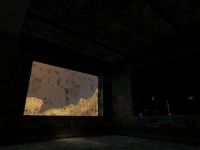 Inside the building, looking at City 15. Sorry for the darkness in this picture, lighting needs to be fixed.
So far, this is a Early May update. But soon, there is more to come and possibly some more information on a possible demo release date. Thank you for reading, and good luck to other modders and indie developers. - Jazzbyte123