Greetings, Witches!
We just released our second demo here on IndieDB. We've been hearing your feedback and took it deep into our hearts. We appreciate it all!
Today we would like to talk to you about the updates of the game, as well as what is to come. But we'll start off with the updates.
Changes:
Camera
The camera was one of the weak spots in the previous demo. It didn't really fill a purpose. It was just there. With our new camera system, we hope to give a bit more aesthetical feeling, as well as give the player more control. We now have three different cameras that the player will be switching between.
*Please note that the quality is lacking because of the video format, not the game.
The first is the default one. A camera locked to the player that let's you rotate around the player while moving.
The second one is what we call the "Platforming camera" as it locks on to the players back and let's the player control sideways movement using the mouse. To use this you hold down the right mouse button.
And the third camera, which is the throwing camera, zooms in beside the player when aiming to throw a potion.
Nix
Nix is finally in the game, and with it - story and dialouge! Nix is your companion through (you being) thick, and thin! Being our way of communicating and venting our development anxiety with you players. That's what you want, right?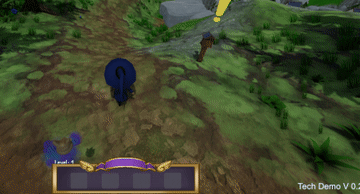 Essence
Essence is the collect-a-thon part of our game. That being said, we're not going for a collect-a-thon game; we are aiming to use it as a future currency and gateway to progression. They can be found all around the demo world, and give off the most alluring humming while floating, and pretty notes as they are picked up.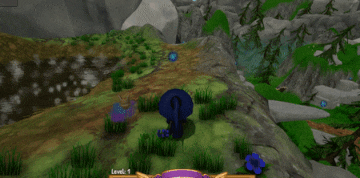 But wait, there's more!
- Added a new Potion
- Added quests
- Added a new area
- Added three new musical pieces
- Added ambiance sounds
- Updated and fine-tuned movement
- Made some rocks fly
So, what's next?
Next up is our aesthetical update. We can't tell you when, but it won't be all too long. We will be working toward updating our graphics and implementing all the sounds and whatnot. As well as updating and fine tuning mechanics based on feedback we get.
In any case, that's what we have for you this week!
Hope you'll try out our second demo, and don't be afraid to give up some feedback!
Until then, brew safely Witches!