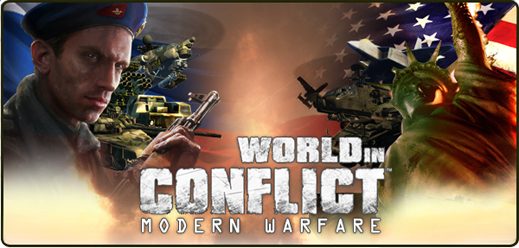 Open Beta Release 4 is Now Here

Windows XP Windows 7/Vista
Sierra Version Download Download
Ubisoft Version Download Download
Steam Version Download Download
Sierra Version - If you bought retail copy of WiC prior to the release of Soviet Assault (before March 2009) or Even if you bought Soviet Assault expansion afterwards, if you initially purchased your WiC before March 2009, you must use this link!
Ubisoft Verson - If you bought a retail copy of WiC after the release of Soviet Assault, or bought a retail copy of World in Conflict: Complete Edition(after March 2009), use this link.
Steam Version - If you bought WiC from Steam, use this link.
NOTE: Installation of the mod does NOT impede your ability to play normal, unmodded
games in WiC. You can go back and forth between unmodded and modded games simply
by loading and unloading the mod inside the game application itself. You do not
even have to uninstall or reinstall the mod. It's really that simple.
Download the appropriate installer.
Make sure you have updated to update 11. If not, just run the game without the mod loaded and sign into multiplayer- the updates will be downloaded.
Delete all your savegames.
Run the installer and follow all instructions
Go to the menu, go to options, then mods, then load the mod.
Play!

Update 4 (R4) - V1.0 to V1.4
XP Version: Download
Win7 / Vista Version: Download
Updated and new features
Updated model textures for Stryker M1126 ICV, M109 Paladin, MIM-104 Patriot and 9M330 Tor M1.
Lead-collision homing surface-to-air missiles for Heavy SAM units (offensive ability every 45 seconds).
Updated sound effect for 2A38 guns on Russia faction Pantsir S1 SAM.
Changed LOS scan mode in Russian Mi-28N offensive helicopter from milimeter-wave to continuous-wave.
Added DSMAC imaging seeker on Tomahawk missiles to provide small LOS for improving last-second guidance.
Reconstructed tactical aid memory allocation (malloc) tables for dedicated server version to improve stability.
Balancing Changes on Existing Units
Added flares defensive ability on Defensive Attack Helicopters (no chaff/ECM though for confusing radars)
Russian Mi-28N Offensive Attack Helicopter now launches two 9M120 Ataka-V anti-tank missiles when offensive attack is engaged.
Defensive Attack Helicopter reload timer increased to 180 seconds from 90.
Removed ECM jamming and chaffs on Fire Support Attack Helicopters and replaced them with normal flares.
US AH-1Z Fire Support Attack Helicopter now fires 8x 127mm Zuni rockets.
Russia Mi-24V Transport Gunship Helicopter now fires 20x 122mm S-13 rockets.
Russia Mi-24V 9M114 Shturm missile reload time increased to 50 seconds from 24.
Reduced detection range of US faction AN/MPQ-65 Fire Control Radar against ballistic missiles slightly by 5%.
Increased direct damage of Sensor Fuzed Weapon tactical aid.
Narrowed flight altitude envelope of US faction Tomahawk cruise missile to improve flight control.
Lowered price of Heavy Air Support tactical aid to 20.
Readjusted rocket clip size and reload times on attack helicopters to more realistic specifications.
Bug fixes
Fixed incorrect description on US Avenger SAM defensive ability.