What a year for open Outcast! We published the Oasis 1.0 demo in February and had a tremendous boost in public interest like we never had before. The project finally made it out of the "unknown and untouched" sector into something more public. Articles and reviews were written about Oasis 1.0 and this was also some kind of the final ignition for the team itself. The motivation was back and it was stronger than ever before. Later in the year we released the Oasis 1.1 demo with LOTS of improvements code & art-wise like Persistence System and the custom HUD or Dialogue System to show you guys, that we are really able to reach our goals using the current engine.
Besides we had many improvements on the organisational side of the project. We successfully migrated to our new task management and information system called "ClockingIT" and we implemented SCRUM as the main method to work on the project on the operational side. These changes really pushed the project to the next level. We are quite productive at the moment and we can react on upcoming problems in a more flexible way than before. This is a strong recommendation to all dev teams out there, SCRUM really rocks!
Okay, so much for the last year. What about next year?
The most important target will be to finish the region sketches of at least three regions with the leveldesign and all necessary 3D assets. Currently we are working on the first region sketch of Okasankaar and we have a very good progress there. The basic sketch of the map in Sandbox is done and we are currently designing the flora and also preparing the city design phase for the next few Sprints now. Just have a look at the pictures below to get a better idea of what Okasankaar and Cyana should look like...
A view on the higher parts of Cyana where the wealthier talans live...

Some sketches of talan lanterns in those wealthier parts of Cyana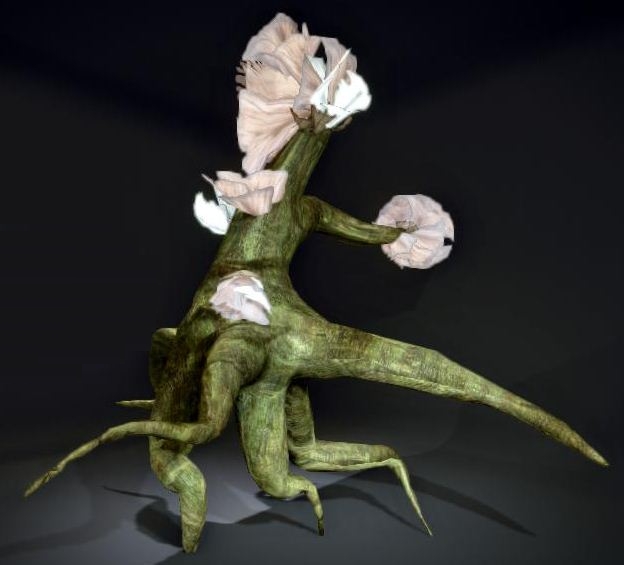 A "mushroom tree" which is growing in the swampy areas of Okasankaar
The next two regions for this year are most probably Talanzaar with its big capital city of Okriana and also the snow region of Ranzaar, where the main camp of the Dolotai guardians was in the first part of Outcast.
Other targets
Implementing of an inventory system code-wise (Connecting with persistence system)
Completing the HUD and all elements of it (Questlog, Inventory, Weapons etc.)
Creating a talan AI for friendly and hostile talans
Finishing the story revision and start creating the quests
Release Oasis 1.2 with a working combat system and AI
Searching for a Lead Leveldesigner for open Outcast (read more below)
Increase our PR activities & community building activities
Alright, we don't want to make this any longer than it should be. We wish you a merry christmas and a happy new year, we hope that you will also stay with us in 2011!

Eternal Outcasts
Vacant Jobs: We are currently looking for new 2D and 3D artists as well as for a good Flash UI Coder / Artist who is able to help us out with our missing parts of the UI and the HUD. In addition we are preparing a recruitment campaign for a Lead Leveldesigner - news on that one will be published here or on our site directly. For the other job announcements and open positions just follow this LINK
---