"Ho, Ho... Ho!"
ModDB's 2010 Mod of the Year Awards!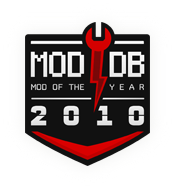 Overwatch has only been in development for a bit over a year and was released to the public for the first time less than four months ago, with four major updates to have since followed. Its development has come a long way already, with its four unique levels and fun-filled gameplay, and we hope to bring you more in the new year.
Overwatch's community has been key to its success, and thanks to all your votes, Overwatch has made the Top 100 list for this year's MOTY awards!
We are now in the final day of MOTY nominations, and what better way to celebrate than by presenting you with a trailer recapping Overwatch's development in 2010 and giving you a sneak peek of some of the features you will be enjoying in early 2011.
As soon as you are done watching, wipe off that drool and remember to vote for us again (by clicking on the big green Vote for this Mod! button at the top of the profile page, then navigating to Overwatch in the Half-Life 2 section under Released mods), and help us win this year's Mod of the Year award! Don't forget to log in to your ModDB.com account first, and since you can vote for as many mods as you like, be sure not to miss any of your favourites!
Love the music? So do we! Here is the complete track, written by Overwatch's amazing composer:
More to Come!
The year is not over yet, so be sure to keep an eye on Overwatch's homepage, where we will be announcing the winners of the Overwatch Level Design Contest and a few other surprises!
In closing, and on behalf of the entire Overwatch development team, I would like to reiterate how much we truly appreciate all the amazing feedback and support you have all given us, and wish everyone the happiest holidays and a fantastic new year!