This week, Olvand hit 100 trackers here on IndieDB/ModDB/Desura. To celebrate that, I made a simple map of where the first 100 trackers live: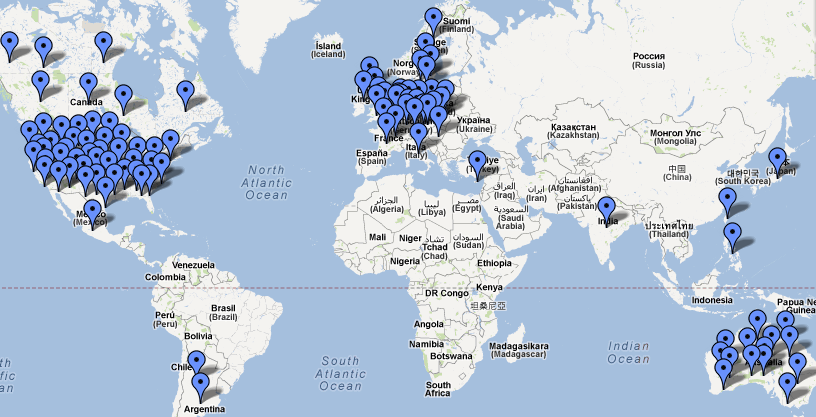 I only know the country, not the actual position, so in big countries this is only a rough estimate, but it's still fun to look at. During making this I also discovered that only one of these persons says on her profile she is female - apparently, despite The Sims and Facebook games, the gaming community still is largely male. Interesting, because I actually thought my game had a very woman friendly appearance.
This probably also is a good time to say that I'm very happy I added my game here. It felt a little bit weird in the beginning - if you've been busy making a game for so long, making promotional material feels like you're wasting time. I've come to realize, however, it's not a waste of time at all: first of all, this flood of positive comments makes me much more confident about what I'm doing, which really saves me a lot of time while programming, composing and creating pixel art. But more importantly, having a (small) community at start is probably essential for a multiplayer game like Olvand. You can have tons and tons of features for multiple players, but if you only have one or two players online all the time they're useles. So what I'm doing here is probably even more important than adding features!
Talking about adding features, I've achieved quite a lot this week. The integration with Desura I talked about last week already works, the client and server software already accept accounts created by Desura, and the achievements already work in game. Not that it looks pretty, but it works: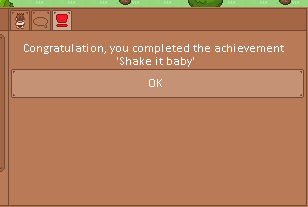 To test whether everything REALLY worked, I uploaded a test build to Desura and invited my girlfriend and two close friends - which is also why this page now says that the game is 'released', sorry for the confusion - and found out quickly that none of them managed to install the game properly. Some things simply were really unclear. My to-do list for now:
Make installing the game with Desura easier.
Add achievements to the member area on the website.
After that, I'll invite the first strangers from the internet... exciting!
If you want more development, see [twitter] or [facebook].
PS
I'll be in Italy next week, so there won't be a blog post next Friday.