Of Guards and Thieves 63.0 Update Overview

Hi guys,
Update 63.0 is available from September 18!
WEEK LONG DEAL ON STEAM! -35% 22 to 28 September, Hurry up!
Here's the complete changelog for 63.0 update:
Spectators now can join anytime during a match (optional in server settings)
New Ability Cooldown system
Upgrade: endless uses for zombie abilities
New Zombie: The Fat (with Puke ability)
New Avatar: The Fat Zombie
Wooden debris footstep sound
Bullet trail remake
New Gadget for Scout: Glue Bomb
New Slowdown effect for gadgets and abilities
Bug fix: Invisibile Fire/Acid pool damage
Bug fix: Fake damage feedback
Bug fix: no more particle persistence after explosion
Bug fix: Now gadget kill with the right owners name
New Zombie!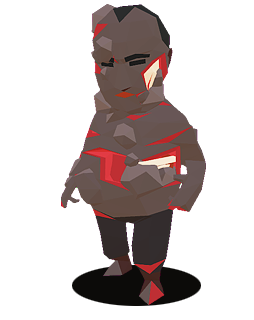 The Fat zombie is an ibrid support-defensive class, its slow movements do not allow him to be very versatile in offensive maneuvers,
but his strength and his melee attacks damage make it very useful in defensive positions.
In addition, the puke ability allows him to block important spot, damaging his enemies and supporting the team maneuvers.
Fat Stats
Health: 80
Base max speed: 4
Puke ability
The puke ability creates a pool of gastric juices that slow down movements and damage enemies that pass through.
*The puke pool also affects your teammates and yourself, so use it with care!
Puke effects
Area Damage: 12 DPS
Hit Damage: 30
Explosion Damage: 15
Explosion range: 0.8 meters
Slow down factor: 0.3
Duration: 7 seconds

New Avatar


Ability Cooldown system
Ability/equipment now have a cooldown timer, this means that you have to wait a certain period of time before being able to reuse that ability.
You can check the ability/equipment cooldown status on the right bottom section of the game screen.
Here the list of the actual cooldown time:
- Acid spit: 4 seconds
- Puke: 4 seconds
- Smoke bomb: 7 seconds
- Rock Launcher: 3 seconds
- Railgun: 1.2 seconds
New Gadget: Glue Bomb

The glue bomb is a grenade available for scout class, the explosion generates a puddle of glue that will slow down anyone moves over it.
Glue bomb effect
Slow down factor: 0.3
Duration: 12 seconds
SPOILER ABOUT SANDBOX MODES FEATURES
*NOTE: All the contents below is not available yet.
Crafting and Inventory
Crafting will be one of the most 'important and rich aspect of this gamemode, our goal is to create a really deep and solid crafting and harvesting system with huge amounts of recipes and items combination.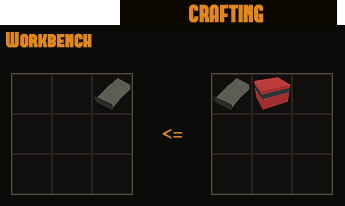 *Crafting recipe sample: Empty magazine + 9mm bullets pack = Full magazine
To do that we need a solid inventory system, and this is our solution for that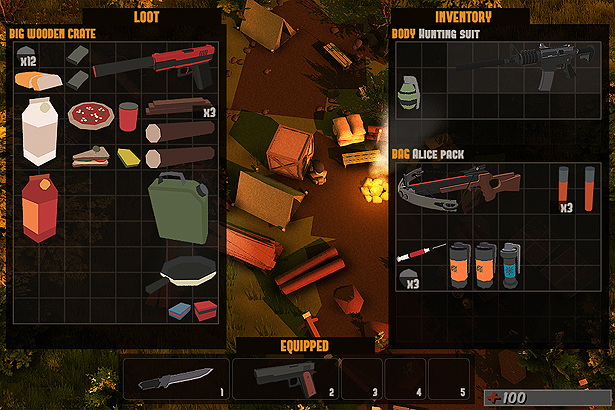 Farming
If you like farming simulation games, prepare your shovel and fertilizer, you'll have hours and hours of farming!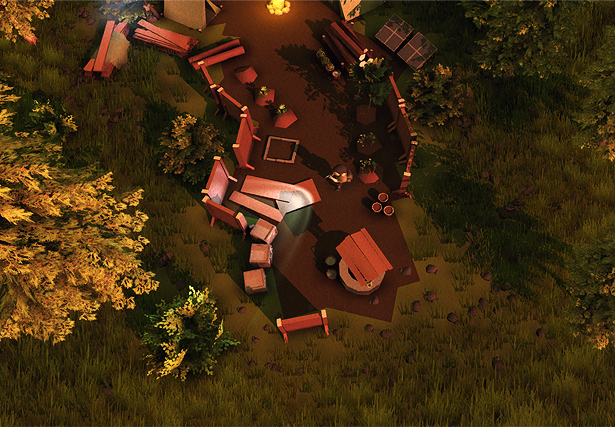 That's all! Just a little spoiler ;-)
If you want more details don't miss our future updates and check out our official forum.
Again, thanks all for the support and see you in game!

..or Play directly on your web browser on Kongregate. and Join our Forum to take part in the development!