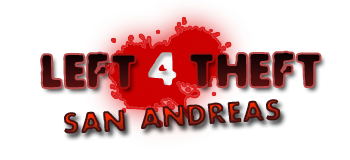 The release of version 3.0 is finally coming closer, there is still is much to be done so don't think you can play it next week. In this news article I want to give you guys a quick update on the mod.
The past month has been very busy for me. I'm currently going to college and don't spend that much time with friends and family what makes me want to use a lot of my little free time with them. Anyway, I'm also not always in the mood to work on Left 4 Theft so you may guess that progress is going very slow at the moment. But the good news is, I have a lot of free time coming up which will give a lot of time to work on L4T.
Current status
At the moment I'm busy myself with testing. I'm running through the free mode again and have a look at the reported bugs and try to fix them. I want to make sure version 3.0 is not a pile of bugs like version 2.0 was when I released it. I also have a lack of testers, currently it's only me and Smallcombe. (You can always send me a PM if you're interested in testing)
I'm gonna do my best to release it before the annual ''MOTY'' awards event but I don't promise anything! But thanks for reading and stay tuned!