Hello again,
In keeping the tradition of posting an update every month, I bring you the October Release. Unfortunately we don't have much to show you this month.
This doesn't mean that we're slacking off, it's just that the work we've been doing throughout September isn't exactly showcase material. We started redoing some normal maps for existing weapons, working on high poly character models, tweaking existing textures and models etc... I'll take this as an opportunity to tell you more about the mod and some of the things we plan to add, since we haven't really done that before. That in mind, we are planning a larger release next month so please stay tuned.
Weapons
The first thing I'd like to talk about are the weapons we plan to include. Most of the questions we get deal with weapons, 'will flamethrowers be in?' 'machine guns?' etc... I'm probably as disappointed as you when I have to tell you that no, flamethrowers will not make it in game for a few reasons (namely implementing them accurately). But I can give you a rundown of what weapons to expect for our first release, many you've seen some WIP shots of.
Allied
-SMLE Mk III
-Lewis Gun
-Vickers gun
-Webley Mk IV and VI
German
-Gewehr 98
-MG 08
-C96 Masuer
Grenades
-No. 1 Mark I
-Kugel 1913
-Jam Tin
-Cricket Ball
-Kugel 1915
-Mills Bomb
-Steihlhandgranate m1915
Melee Weapons
-Trench clubs
-Knife
-Entrenching Tools
Looking this over, it's not very exciting, but it's kind of interesting. Like we have a treasure trove of grenades, I don't think I've seen this many variations in an FPS before. And while it might seem redundant to some, it should give you an idea of the level of accuracy we want to implement. Hell, we have more types of grenades then we do maps.
Classes
We have many of the unit classes that you'd expect, Riflemen, Officer, Machine Gunner, and so on. But there's one class that I'm really looking forward to playing, and that's the Bomber class.
As the name implies, Bombers were used to clear trenches and dugouts. And playing as a Bomber, you get somewhere around 10 grenades, and your choice of a pistol or one of the numerous melee weapons.
Expect to see them in our 1915-1916 maps.
And to follow on from last month, we are showing off the finished BEF binoculars. This badboy will help you spot danger from a long way off.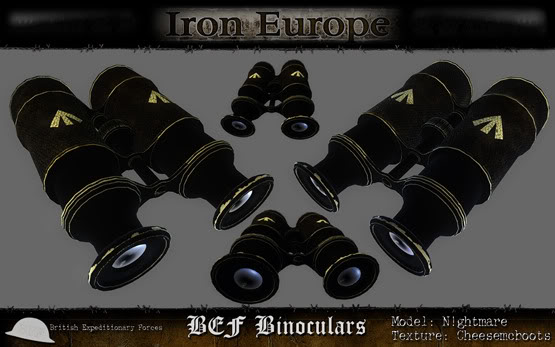 Thanks for reading guys and again, stay watching for the next release!