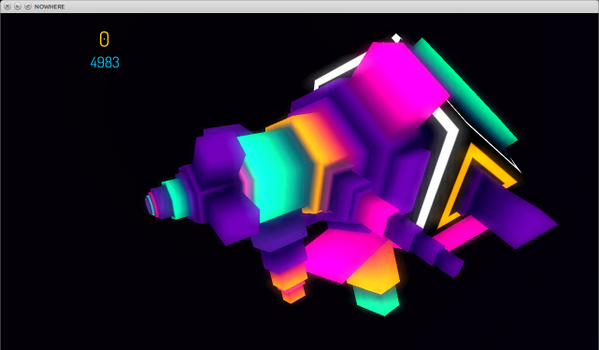 It's time for a little status update. What is happening? What are we up to? Where is the game going? When will the next alpha be released?
Until now, Duangle and NOWHERE have been primarily funded by my day job. I've been entertaining this split personality thing for the past ten years: do mediocre wage slavery during the day, work on music and art in the evening and on weekends, in the hopes of one day being in a position where I would be trusted with greater creative control and responsibilities based on my personal track record. But that time never came.
During crunch time at the office last month the amount of pressure I needed to get anything done at work had me devastated. In a quiet moment I told Sylvia that other men may have fantasies of women in stockings while my wildest perverted dream is to just quit my job and follow my passion. She said: "so why don't you just do it?", and that kind of was the push I needed. I announced my resignation the same day. It's time to seize the day.
The office job has been diverting most of my mental energy to think about things I had no emotional stakes in, so game updates have been progressing very slowly the past weeks, but this is now going to change. My full time commitment ends at the end of July. After another month of 3 days/week part time, we're going to have all the space and time needed to turn NOWHERE into, uhm, the Citizen Kane of videogames.
Being no longer supported by a day job means that we have to ask the community for help. We're going to do this in the only way I know how: by doing a Kickstarter. Well, not exactly a Kickstarter, as KS is a hassle if you're not a US/UK resident, but something very close. We are going to launch the thing on our own site, very much in the way Prison Architect is funded: buy the game in alpha stage (what Steam calls "Early Access"), and, depending on the package you pick, get additional perks and goodies associated with the game, such as shirts, coupons, and (err, let me have a look at the list... bup bup budum...), official cheat codes named after your choosing and/or a sponsored color.
You'll also be able to directly vote on a stretch goal with your commission. These are some of the ideas we're throwing around. Nothing is completely certain yet, except this: if you have already preordered/alphafunded the game, your contribution counts towards the goal, and you'll be able to upgrade your commission.
It would of course help if the alpha was in a playable state, or at least a state that would allow players to get a taste of what we're aiming for. This is where we're in kind of a hen-and-egg pickle: in order to make the game, we need your funding - but in order to get your funding we also need a game.
We'll try to do our best and launch the campaign with an upgraded alpha, along with an in-depth pitch/trailer video. The video will explain some of the concepts in detail, give a historic overview of how far we've come so far and show off some of the rejected prototypes that have been made in the process.
There is also a strong technological side to all this. The game is developed alongside with a set of freely available open sourced Python-based game bindings and libraries, aimed at strengthening the indie communities ability to have greater choice of programming languages. I'm not entirely sure how much we should stress this. It's definitely our goal to make the game as moddable as possible (moddable, is that a word?). Python/PyPy seems like a perfect fit to enable anyone to make and distribute quick modifications to his copy of the game, as it runs on all three major PC platforms without any compilation step required, and should offer much better mod mixing abilities.
Does that sound like a great proposal? Do you miss a vital thing? What other topics would you like to see covered in our crowdfunding campaign? Put your thoughts and comments below!