Well I was not sure I would make my deadline for this map but it actually got a lot faster once I started micro-managing my mapping process. But anyway I have finished the mapping for npzf2. Still some entity work to be done as with the others, more actually, but the map will not be changing very much from this version it is at now.
The lighting is something I am still working on, it is slightly more purple then I would have liked but I already tried a few times to correct it with no luck so I will come back to that later on. This map is our largest completed map, featuring five floors total, three of which are part of Nova Prospekt Zero's prison.
And with that here are some of the highlights from the map. First let's start off with a comparison shot of how the second level looked before I ravaged the map this week: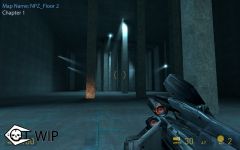 ...yup very boxy as most of my early mapping work in 2005-7 was.
Now, here is this area as it is currently: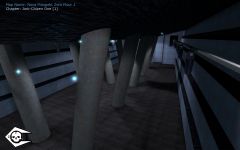 still a bit box-like but some improvement. They are not present on this version of the map but later on there will be several combine soldiers and some turrets down by the elevator area.
Moving on, we come to our first custom decal in our mod: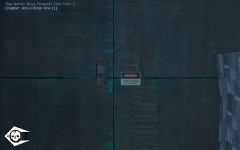 It was made with the purpose of informing the player of how to fix an event that happens in this level. To see the rest of the images from this map you can click on one of the ones above or go to this link: Moddb.com
Now I will move on to floor 1. Unlike the other floors this one is still far from being half finished, it is 30% to 38% completed. So I will need to take more time on this map. I believe that two weeks should suffice for me to get it to near completion. I would also like to announce that we have almost finished naming the chapters for our mod that we currently have planned:
Chapter 1: Anti-citizen One
Chapter 2: Return to Black Mesa
Chapter 3: Operation Black Storm
Chapter 4: Shell Shock
Chapter 5: Stranglehold
Chapter 6-Chapter 8 remain unnamed for the time being
Chapter 9: Insurrection
I will post up a progress report for NPZF1 next week maybe around Wednesday or so and let you know exactly how long it will take to get the map done.
Thanks for following CI,
Geowil.