After 2 1/2 years of development, North and South: First Manassas (beta 0.5) is going into its first full release.

The new version offers lot of new features and tons of great models, made by Docm30 - the developer of L'Aigle

What is North and South - First Manassas?
The United States of America - in the Year 1861. The Union and the Confederate States of America are at War.
Both sides fight in the biggest war on the american continent: The American Civil War 1861-1865!
The modification features theBattle of Manassas, which was the first big battle of the Civil War.
On July 21st, 1861 both armies clashed near Manassas junction and the river Bull Run. It should be the first and last battle of the war.


Reworked Uniforms
• ALL Uniforms are replaced by high quality models, which are made by Docm30 - the Developer of L'Aigle
(check it out: Moddb.com )
British Soldier and Zouave Officer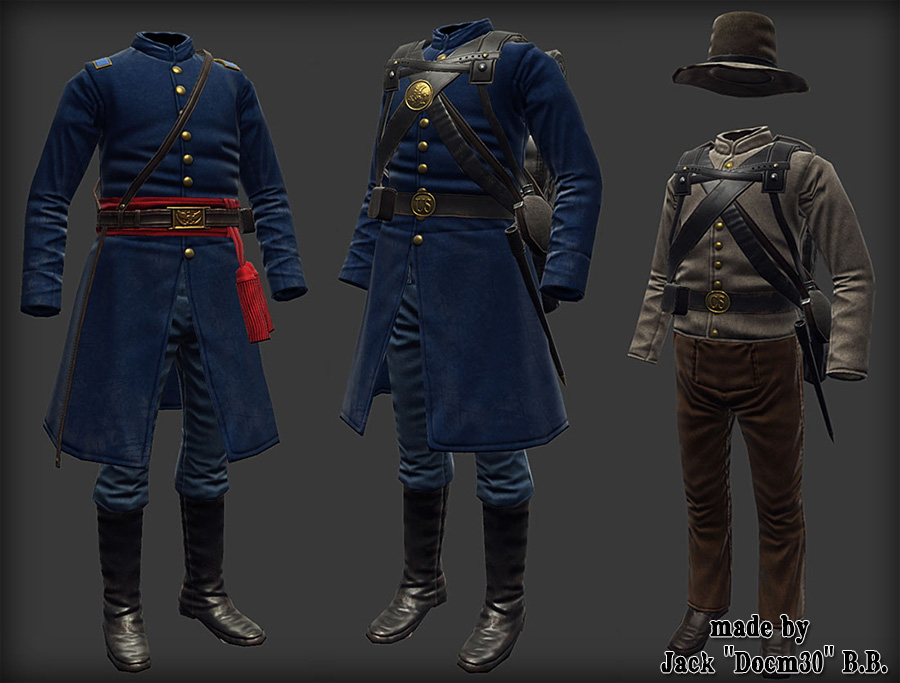 Complete new Environment!
• In cooperation with our sister mod - "Blood & Iron" a complete new envirenment with new plants, objects, skybox and more was added!
(check it out: Fsegames.eu)
• Tons of new mapping objects like western buildings, wanted posters, trains, supply carts and many more!

New Battlefield tactics and features!
• Bayonets: Fix Bayonets and when you charge them, yell like Furries!
• Ammo Boxes: resupply crates to refill your ammo
• Bleeding: If you survive a hit, you can bleed to death after some seconds
• Medics: To stop bleeding, you are able to spawn as a field medic now. Medics have bandages to fix up wounded soldiers
• Chaplains: Take out your bible, bless your troops or worship the developers of this mod
• Balloons: Get into a balloon and recon for your team!
Ammo refill


New units and ingame regiments!
• New units are added - like Pennsylvania Lancers, Partisan Rangers, 79th NY - Cameron Highlanders, VMI Cadets and more!
VMI Cadets


• First unique player regiments added into the game!
14th Brooklyn


Foreign Intervention!
• "Foreign Intervention": A new "what if, ..." scenario brings in troops of 4 different nations, which joined the War!
On July 25th, 4 days after the confederate victory at Manassas, France and England declared war on the United States of America!
While an Expeditionary Corps was sent to Richmond, Virginia.. the Mexican Army started a second Invasion of Texas and declared war on the Confederate States of America.
What would YOU do, if that "What if..." Scenario took place?
British Highlander and Mexican Soldier


Commander Battles!
• Reworked Commander Battle mode - regiments will march into the battle with flags, musicians, officers and NCO's
AI Commander Battles with Flags/Officers


Setup-Files
LINK 1
Moddb.com
LINK 2
Mega.co.nz
Instruction
1) Run the downloaded "NaS Setup" file!
2) The installer should point out your correct Mount&Blade folder automatically. If its the wrong folder, please navigate yourself!
3) The installation path should end with \North and South First Manassas. If its a different folder, please make sure to edit!
4) Play the game and have fun!
SERVER Files
(for server hoster only)
No server files available.
Please get in contact with the developers!

If you would like to support us
North and South is being developed without any other funding than what the community chooses to donate to us.
There are no wages and there have never been. Everything you see is created out of pure will and passion regarding the project.

North&South Team
Hinkel
Parrot
Kanade Tachibana
Nytech
North&South Community Supervisor
HairyWarHero
Mod Supporter and Contributors
Docm30, Mailman, Chadman, ComradeCrimson,
Flemmi, Primergy, usnavy30, BetaKnight, CKtheFat,
Rigadoon, Penis Colada, Azrooh, Austro, Baz44331,
Friedrich, Von Afton, GoKiller, Jaakko, GABRILDURO,
YellowMosquito, Col. Mack, Diplex, The FSE Team