Procedural Bossfights
My first idea for bossfights in Nimbatus was to design each boss individually and give each of them some interesting gameplay mechanics. But I soon realized that this approach would take too much time as I would have to spend hours to design and fine-tune each boss fight. Therefore I came up with the idea of procedural bossfights. It's really simple and consists out of two steps:
Each boss equips itself with a selection of randomly generated weapons of the same type.
Each boss selects 3 out of many different attack and movement patterns.
That's all. This simple mechanic allows me to quickly design a new boss and add it into the game, resulting into hundreds of different combinations of the same bossfight. Currently I have implemented about 10 different parametrizable attack and movement behaviours, and about 700 different possible weapon combinations. Here you can see different versions of a bossfight:
Complete planetary destruction
As it is necessary for the game progression that your drones get destroyed at some point, I've added the first event, that will completely destroy an entire planet. These events will trigger after some time and are very hard to avoid. The first event is a meteor shower as you can see in the following screenshot: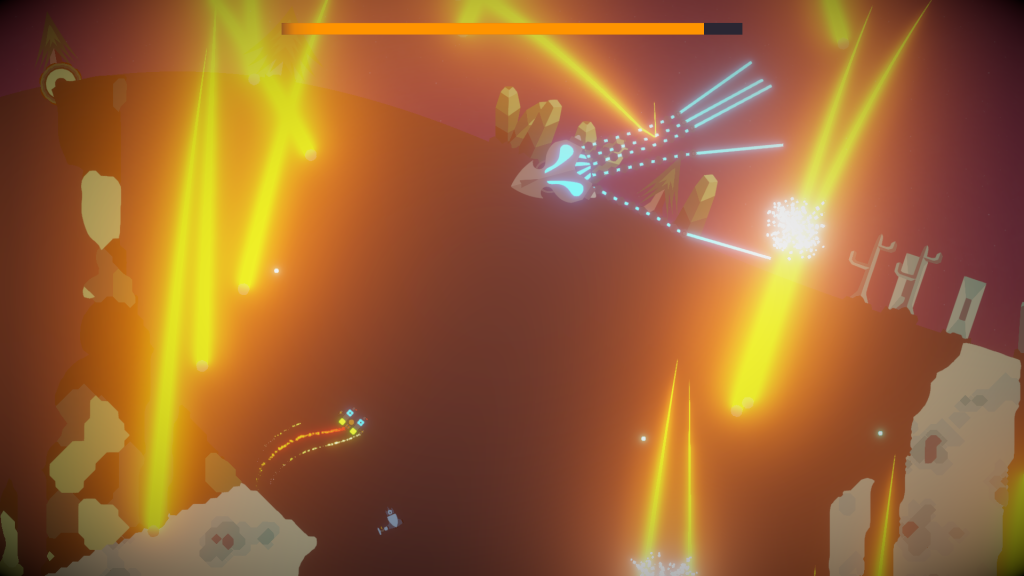 As it looks better in movement here is a small video of the meteor shower I recorded today:
Next Steps
Here is an incomplete list of the next planned features and improvements again without any warranty :)
Design more content- I will take myself time to design and add different bosses, weapons, drone parts and events into the game to make it more interesting for a future beta test.
Black Hole -There needs to be some more cool events to destroy a planet. I thought about getting sucked into a black hole might be funny, let's see how this turns out.
Procedural dungeons - My first try on procedural dungeon generation ended in a maze generator, which was not very usable. Therefore I'd like to try it again and implement a more advanced dungeon generator.
Backgroundstory / missions - Why are you sending out drones to all planets? What are you trying to find?
Please follow me on twitter if you like to see daily work-in-progress screenshots or give me some feedback about the game. (Twitter.com)