Progress is going good here. We're at about 80% done, and it's looking sharp!
Here's a wallpaper Pedro (a friend and team member) made yesterday. The cool thing about this one is that it's an in-game screenshot, no photoshop editing whatsoever :)
I found this screenshot so awesome, I just packed it for all resolutions and decided to throw it out here. Without telling too much about the storyline, it might look familiar to those who played the first Nightmare House and its remake.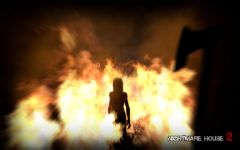 DOWNLOAD:
Nh2.wecreatestuff.com