Hello,
Nightkeep is a project I've been working on for the past 2 years. My goal is to merge classic metroidvanias and JRPGs, add a fairytale-like theme and make a platformer, which will bring players 20 years into the past.
See the new trailer:

Nightkeep is an action RPG platformer inspired by the SNES-era classics such as Castlevania Bloodlines, Demon's Crest and a number of JRPGs. I'm a big fan of the stories these games tell.
Get the demo here: Igg.me
I'm making the game as a nostalgia trip for the fans of old NES/SNES games. It's always been my biggest dream to make games like these. If the game is successful, I'd love to continue making games and create indie fantasy and rpg games. I've got tons of ideas, but they'll have to wait.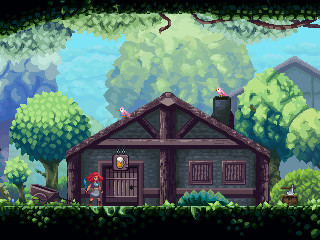 After two years, the project is launching on indiegogo looking for support.
Also, if you'd like to help me, consider sharing the Indiegogo crowdfunding campaign! I appreciate it.