Next Version of the Future Wars – Tactical Simulator delayed
The version 0.5 is delayed due the following reasons:
There will be a complete adjustment to the newest Sins Version 1.19 and also a lot of small updates to the sound, special abilities and interface. Furthermore there will be a debate about including another new race.
So let you surprise...
Drako - F.L.A.M. Modding Team
-------------------------------------------------------------------------------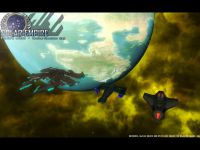 Nächste Version von Future Wars - Tactical Simulator verspätet sich
Die Version 0.5 verspätet sich aus folgenden Gründen:
Es wird eine Anpassung des Mods an die neuste Sins Version (1.19) durchgeführt und ausserdem werden noch viele kleine Überarbeitungen im Bereich Sound, Spezialfähigkeiten und Interface erstellt. Weiterhin wird es auch eine Team interne Debatte über den Einbau einer weiteren Rasse geben.
Lasst euch also überraschen...
Drako - F.L.A.M. Modding Team