News Update #19:
Stone by Stone
Hello and welcome to another update from the Traction Wars Team. It has been a while since our last News Update so we thought it time to let the community know what we've been up to.
Since the last update we have said a very fond fair-well to [TWCON] Decency, famous for his beautifully recreated Bedford QLD, who has left the team to pursue personal projects. From everyone at Traction Wars we wish him the very best of luck for the future. On a much brighter note we offered a warm welcome to [TWDEV] Geo who joined us at the beginning of December as a Modeller & Texture Artist and [TWDEV] Dunathan as vegetation artist just a few days before publication of this update. Welcome to you both!
With spring in the air we thought it time offer a few sneak peaks of what we've been up to over the past few months. We have continued hard at work on gameplay, combat environments and weapon implementation. While these are exciting developments there are less frequent opportunities for showing off polished content at the moment unfortunately but we hope to be able to share some of these developments with you soon.
We have continued to add more detail to our levels with new detailed statics such as the one below whilst actually improving performance. You may recognise the model below as a destroyed version of a model featured in a previous update.
Aside from in-game progress we have introduced a custom-built web-based task manager designed by [TWDEV] General Naga to streamline our work-flow and keep everything moving smoothly between team members.
There have also been a few improvements to the community forums including most notably the return of "one-click" sign-up through Facebook and several new ribbons to collect. Our mobile site has also undergoing some changes; mostly readability and performance improvements which the keener community members will already have noticed. You can visit the mobile site at any time by going to www.twmod.org from most web-enabled mobile devices.
Finally for this update we would like to share exciting new concept art created for us by community member Stuffeson a little while ago to help visualise some of the urban environments and should give you an idea of what is to come.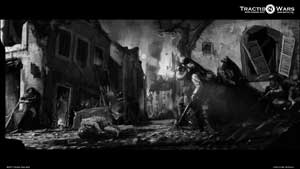 We have recently overhauled our recruitment page with more useful information. If your interested or just curious about joining the team then visit our take a look to see which positions are currently open and to find out more.
If you like what you have seen or would like to contribute your own ideas or thoughts about the mod directly to the developers you can visit our community forums.