And here it is! D-day, day of days, prepare for war (hopefully).
Only War 2 should now be online and ready for downloading, click the image below to download.
I'll upload it to the moddb profile soon aswell and add it to the downloads section on the website, and while I'm at it I'll upload some screenshots to the gallery that haven't been posted on the moddb before.
The mod weighs in at 56.9 MB's in a winrar zip file. You will need to have Command & Conquer 3: Tiberium Wars in order to run the mod. (Not compatible with Kane's Wrath)
To install the mod, go to your C:\Users\Boomerang Python\Documents\Command & Conquer 3 Tiberium Wars\mods directory and create a folder and name it OnlyWar2, then you'll need to extract the files inside the .zip file into the folder you just created (a .big file and a .skudef file).
To launch the mod you simply start up your Command and Conquer 3 DVD auto-launcher and select 'Game Browser' then go to the 'Mods' tab and it should appear in that list, now select the mod and then press the 'Launch Game' button at the bottom.
The alpha
0.1 features:
1 1v1 Map (A bridge too short)
1 Faction (Imperial Guard)
4 Units (Imperial Guardsmen, Chimeras, Hellhounds and Basilisks)
4 Buildings (Departmento Munitorum, Shrine of the Ecclesiarchy, Armamentorum, Manufactorum)
NO AI (So grab a buddy if you want to try it out)
Right, maybe I should explain how the economic side of the mod works, basically what you want to do is always make sure you construct a shrine as soon as you can, because these will generate resources (or 'faith') at a steady pace for you, and that's pretty much it. Easy really.
Also I'll repeat what I said in an earlier post on the website; keep in mind that because it's only an alpha versionit will be quite buggy and all kinds of glitchy. So if anyone does take it for a spin, remember to post everything you encounter in the bug report section of the forum: Bug Report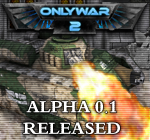 Good luck out there,
Emperor Protects.