Hello again, pilgrims, it's time...
We here at TrenchWork have been working our filthy hands to the bone and think it's about time for some revelations regarding what exactly has been going on behind the scenes for the past year. There's quite a bit to cover, so buckle up! Because as promised, we're finally here to bring you the news you've all been waiting for.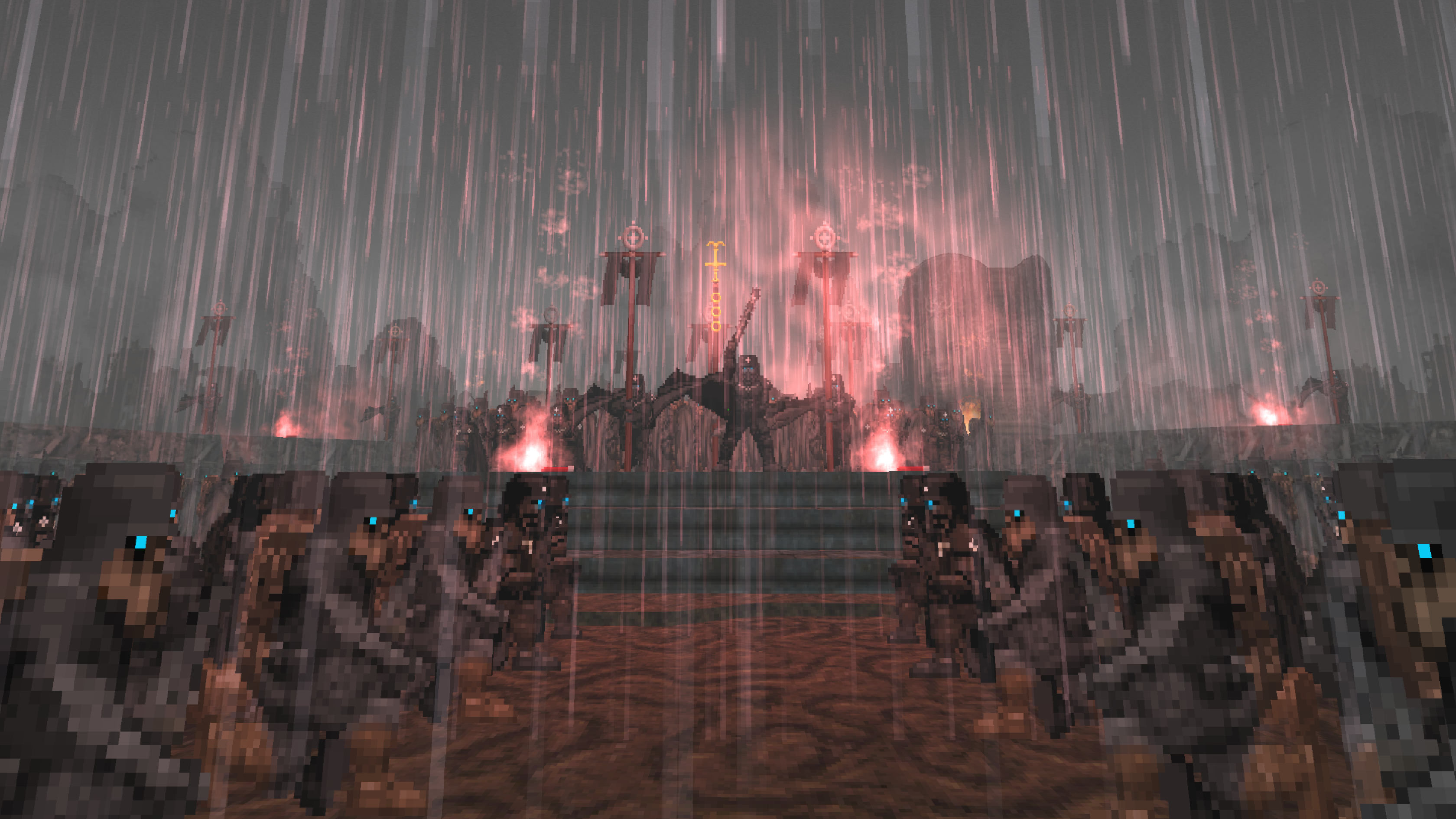 Starting off with the most major and noticeable changes, let us describe how we've overhauled the general gameplay aspects while sprinkling in an ample amount of immersion and detail for a much more unique experience. After some thought, we've decided to drop the antique and painful to work with DECORATE and ascend to ZScript. Not only did this open up a room of endless opportunity which we've been utilizing to the fullest, it also massively improved what was already there. Movement has been completely rethought, getting rid of the vanilla Doom's ice skates and adding some needed weight to each holy step. Quite characteristic to the Master Templar's blessed heavy armor. A stamina system has been implemented, causing the player's vision to blur with extreme fatigue, preventing them from zooming around the battlefield like a squirrel on Panzerchokolade. This doesn't mean that our favourite harbinger of the holy message has been turned into a turtle, though. In fact, you shall find that mobility has increased as backwards and side dashing is possible now, as well as the abilty to climb up ledges, allowing for quick dodges and escapes from the lethal savagery brought by those damned heretics.
Moving onto the juicy stuff, the holy instruments have been made... holier. Many weapons, such as the revolver and light machinegun are now reloadable, bringing a sense of gritty
realism to the gunplay. Although the blessing of infinite-sized magazines has expired, the divine miracle of locational damage has begun. With that being said, we encourage you to practice a greater degree of marksmanship so you can enjoy some sweet and messy headshots or decapitations. Did someone mention decapitations? Oh right! Meet the chainsword, your new best companion in CQC. After a lot of experimentation, it was found that slicing the heretics wasn't enough, so an element of shredding was added. This longer ranged melee meanie will make sure you leave behind a nice trail you can follow in the form of blood pools, and maybe a few heads lying around. Speaking of violence, we've updated our gore system to NashGore's latest version, improving the visual spice and allowing for a satisfiable amount of user customization.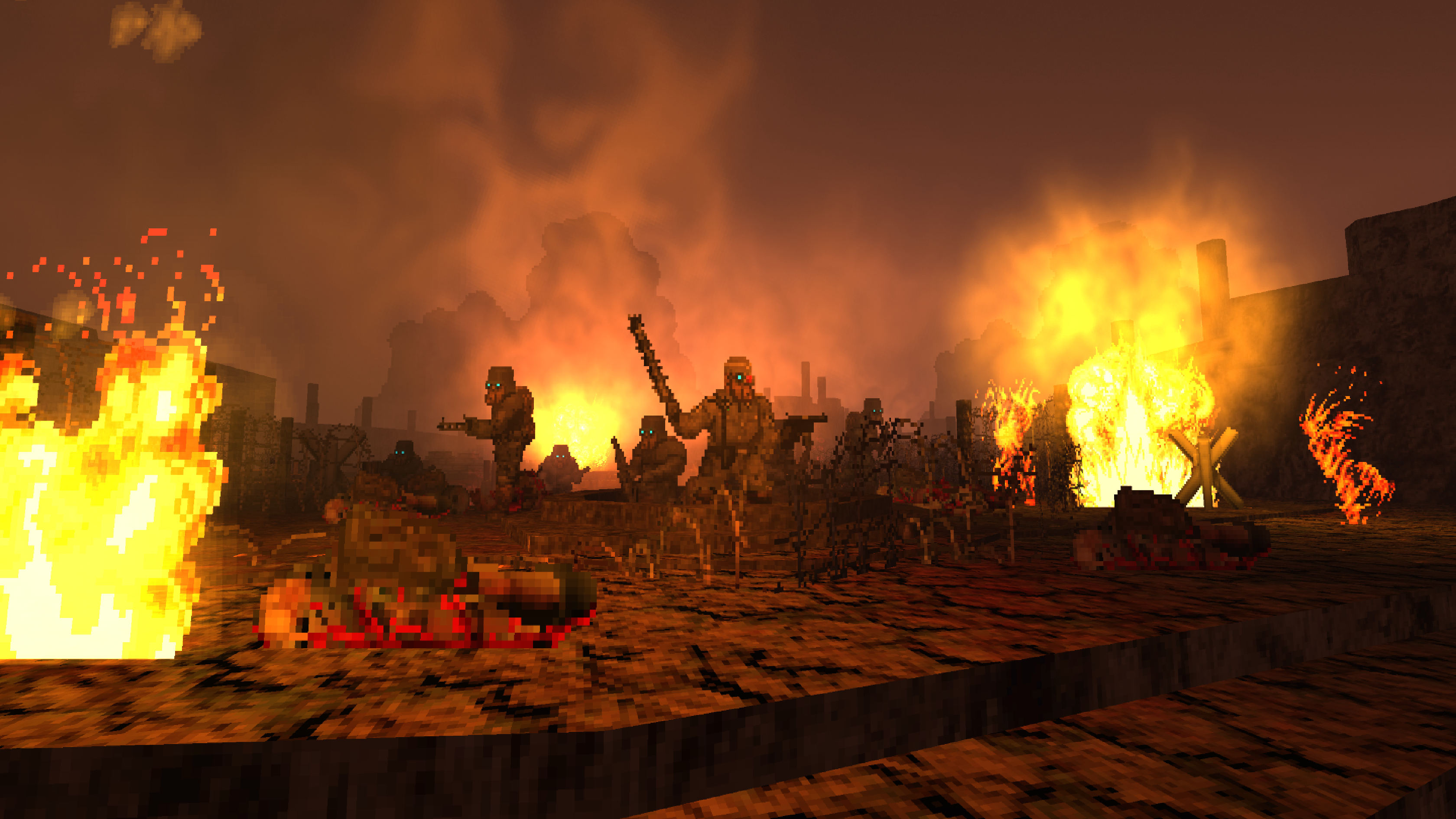 With the whole codebase now being fully ZScript, Trench Foot has been optimized to allow for a new plethora of visual effects, including the new weather and shader effects. Rain pours over the trenches, muddying up the war-torn terrain. Thick fog sprawls over the battlefield, obscuring vision and covering up the dangers that lurk behind. These additions add several layers of realism and enhances the mood, atmosphere and the survival horror flavour we're bringing to life that helps players submerge themselves thoroughly into the boots of Master Templar.
Next up, the levels. Our original demo map has grown to such a bloated size that it needed to be split into four large seperate ones. Countless new areas have been added, from sprawling trench strewn frontlines to cavernous munition storage bunkers. Existing areas have had so much more detail and atmosphere poured into them that they're barely recognizeable.
In the demo, the player will have to backtrack through certain areas, however, each time the enviroment changes and will offer up refreshing visuals and new challenges that will make it anything but tedious.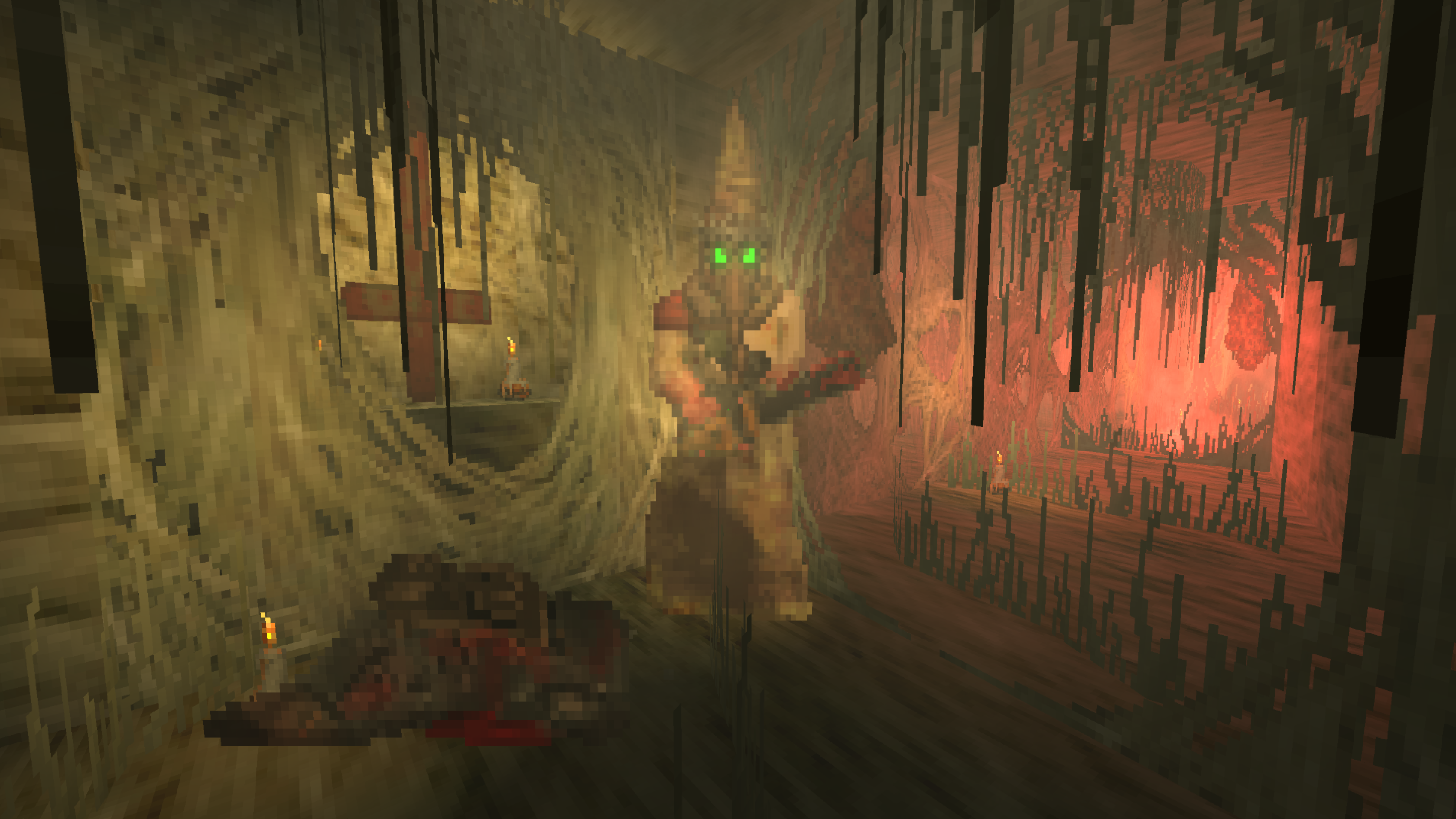 And last but not least, the roster of Trench Foot. Several new monsters have been added and huge improvements made to the originals. Amongst the new additions are the chainsaw berserkers. Being the hulking cultists jacked up on combat stims and dark magic, they offer near instant death for any servant of the cross unable to keep their distance. The additions apply for your loyal comrades as well. Expect to see some new friendly faces to back you up in any fight. For instance, leading squads of Peremptorian guard into combat and armed with an automatic pistol and a chainsword, officers offer up some stiff close combat support to the player, peppering enemies with shots from a distance and lopping off heads in hand to hand combat. Most NPCs now have their own melee attacks and specific death states so blades will cut off limbs and decapitate heads, lazer fire will leave crispy cadavers and the flames will turn them into screaming pillars of fire. In short, the trenches have become much more brutal and gruesome!
And with that we've wrapped up the update on the majority of the progress we've made so far. Of course, we don't want to leave you with just words and screenshots once again. This time, we've put together a short teaser so you all can witness a few of the aforementioned changes and additions in action. With it, we're proud to announce our official YouTube channel. We've got some great things planned over there so don't miss out, make sure to subscribe!
That's all for now pilgrims, hope it's enough to quench your thirst. As always, keep your eyes peeled for more grisly updates on our Twitter and community Discord as well.
Through mud, blood and acid rain, Trench Foot marches onwards to victory.
Get on the discord here.
Follow us on Twitter here.