Hi all,
Sorry for the slightly delay on this update (I'm hoping to do an update every sunday) but I had a very busy weekend!
SO! What has changed in the mod since the release of the tau?
Well, there was the hotfix that corrected a few issues the tau release had, which you can grab below this post. Then there has been a BIG development (and I mean BIG BIG BIG development) which will be detailed below. Lastly, there has been work on an area which you guys wanted, which is the Space Marine super soldier mode.
We'll cover the Space Marine first. After a lot of requests for a vehicular version of the Space Marine which I was hesitant to consider, I decided to create a prototype Space Marine who would be impervious to small arms and incapable of lying down and such things that you guys wanted. Here he is: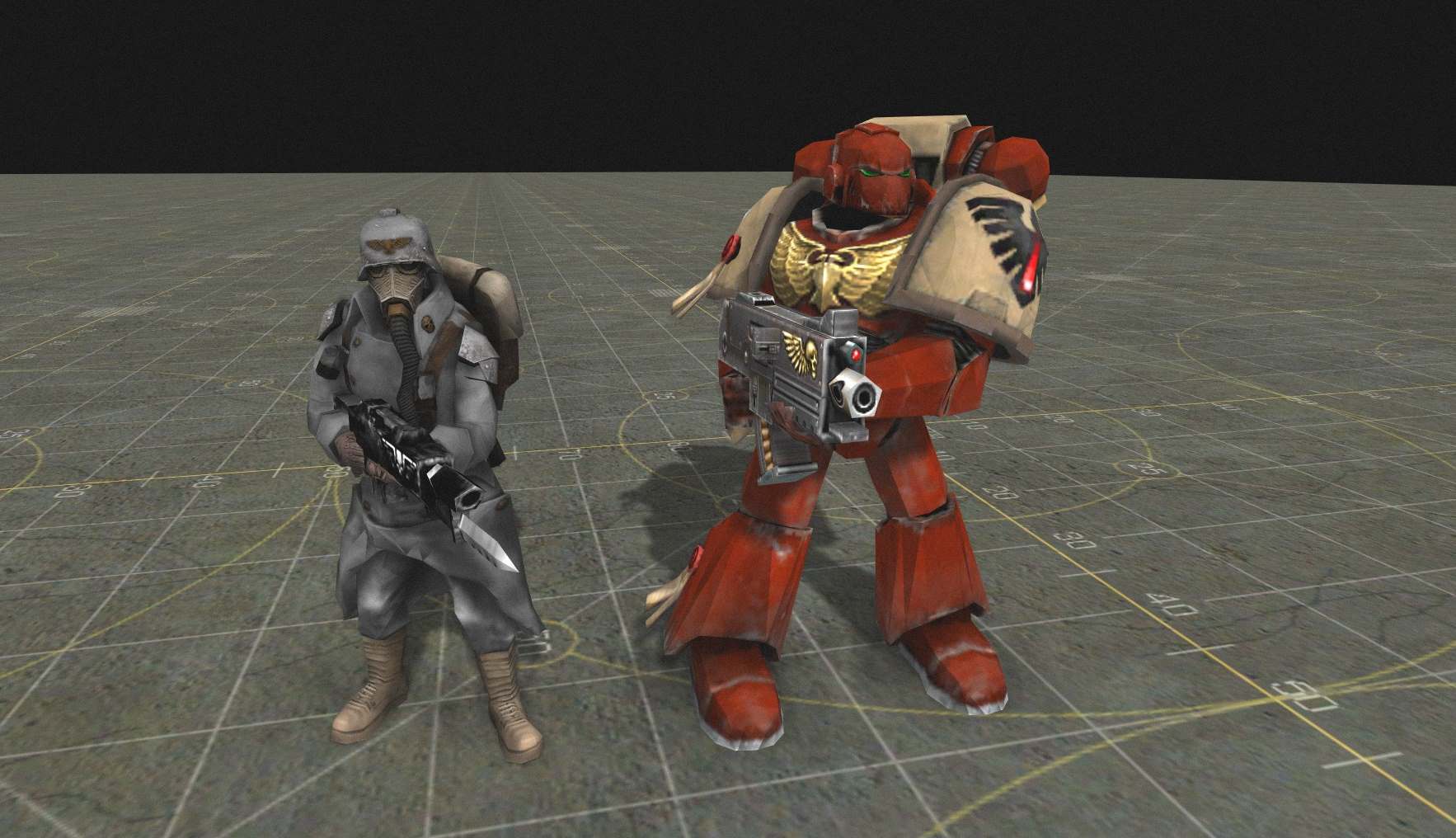 The Krieg Guardsman is reference for size. Now the first thing you'll notice is the pose. This is fixed and he has no idle animations, unlike the Battlesuits, because his gun and arms form the turret part required by the vehicle model, if this were to be animated then he wouldn't be able to aim properly, and his shots would spray all over the place. Without the turret, he would have to turn on the spot like a SPG to fire his weapon at a different angle.
He is however completely impervious to Lasgun fire and too an extent bolter fire. You need a heavy bolter or stronger to take him down. This has upsides and downsides, obviously it makes him more "Space Mariney" but also means if you set two of these to fight head on, its a total stalemate. If I weakened the armour anymore he would be destroyed after 2 or 3 bolter rounds, which is not what I'm aiming for.
Lastly, he no longer lies down. Or crouches. Or does anything at all except walk on command. And he can't get in another tank. He's actually pretty boring. I'm unable to get a complete range of human movements nailed down into animations because I'm just not that good at animating. So for me, this represents pretty much as far as any Space Marine as a vehicle can go. he is functional as a bulldozer provided the enemy has no special weapons, but he dies pretty quick when they do, when the original entity has a greater survival rate because he can do a bit more hiding. Of course other people may be able to take it further, but it's not my speciality.
The up side is this has paved the way for the terminators and the dreadnought, who will utilise a similar turret system. I'm hoping they will give much better results.
Onto our BIG change. I give you, the Legio Titanicus.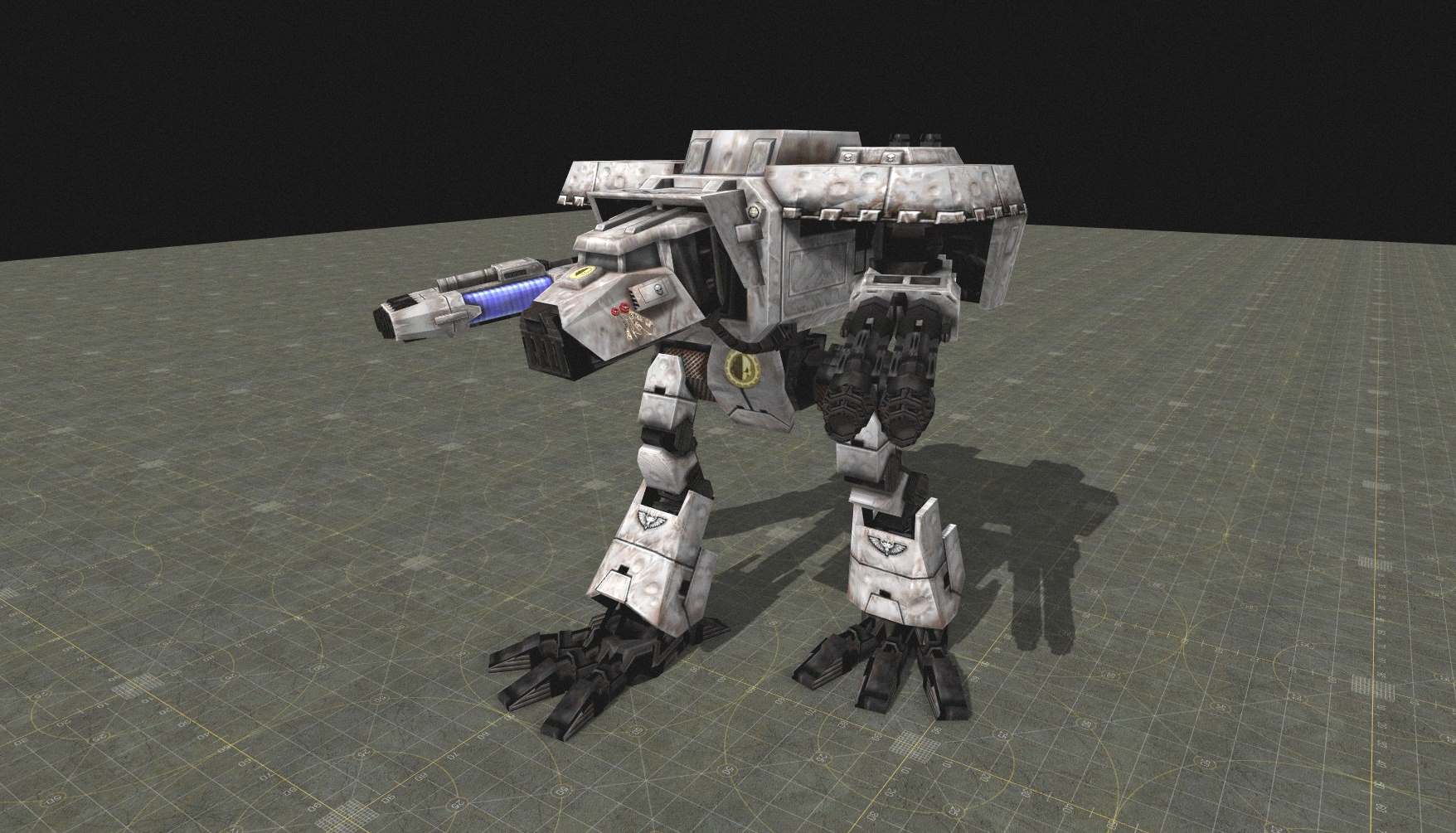 This fellow has been imported from the Ultimate Apocalypse mod for Dawn of War. He is currently subject to permissions by the mod developer and may not actually be included in the update, but I am confident they will allow its use in another mod like the other mod developers have. Currently this is the only model Titan in the game, with working Plasma Blastgun and Turbolaser Destructor, but the Mega bolter variant is on its way very soon.
I hope to also add the Reaver, the Warlord and the Imperator from the same mod, all permission depending. Here you can see the scale of the Warhound, which is only the smallest titan: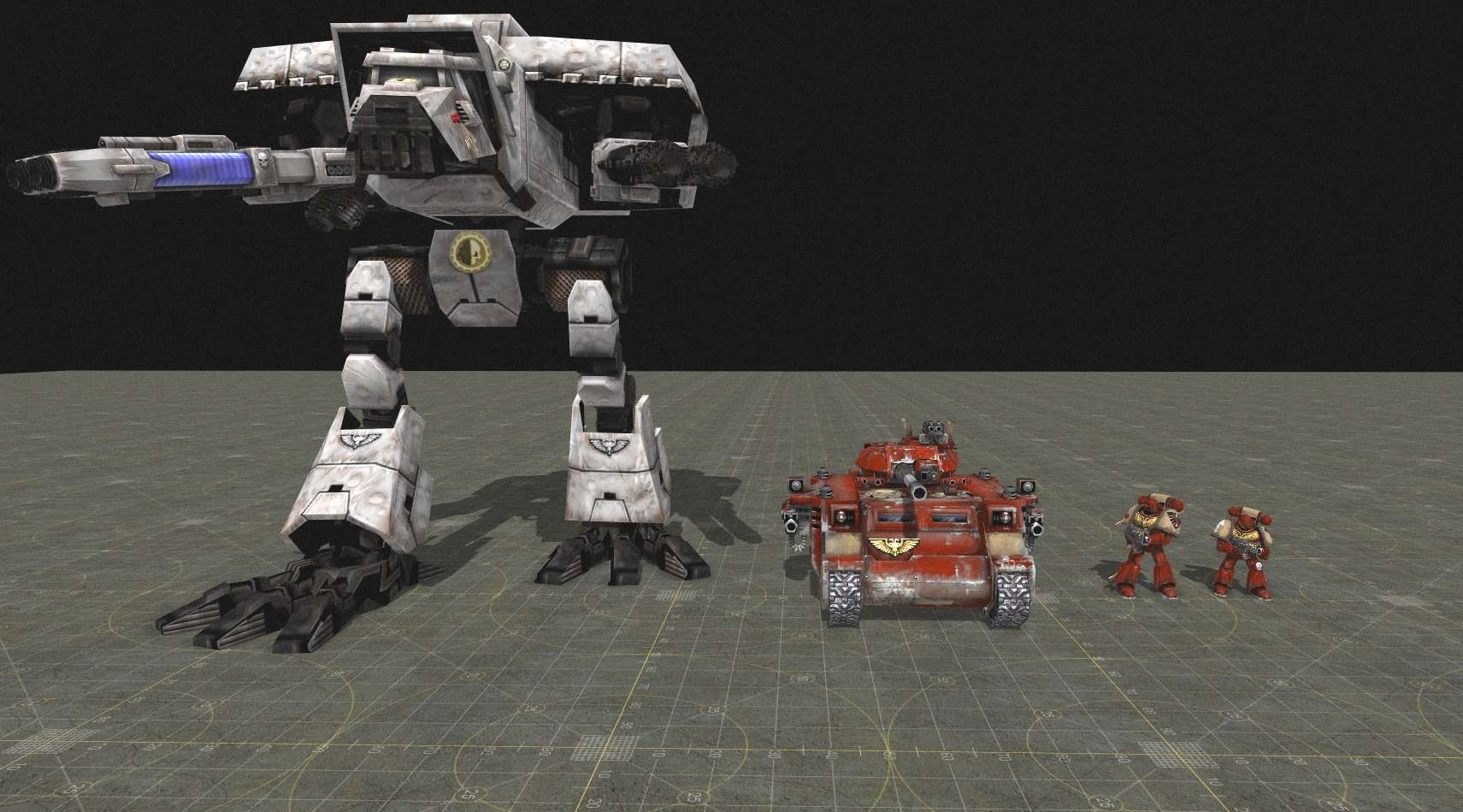 He is quite a beauty, and shreds most armour with ease. Soldiers evaporate under the touch of the Plasma Blastgun. There is even new FX for the Blastgun.
And last but not least, I want to open the new Race vote system. Considering how well the last one worked, I'm going to follow the same system.
There are 3 Races to choose from, reply in the comments which race you want to see in the next update.
Necrons: The runner up in the last vote, but still behind by quite a degree. I'm very confident I can display these guys appropriately in the game now. Will include:

Warriors, Immortals and Pariahs for infantry
Wraiths, Destroyers (+ Heavies), Monolith for Vehicles
Lord and Destroyer Lord for Commanders

Eldar: They scraped one or two votes in the last vote, but as the next easiest race to implement after the tau, I'm leaving them in. Will include:

Guardians, Rangers, Dark Reapers, Fire Dragons and Warp Spiders for Infantry
Grav platforms, Vipers, Falcons, Wraithlords and Fire Prisms for Vehicles#
Farseer and Avatar for Commanders

Inquisition Forces: An interesting mix of heavy units with standard infantry and exotic new Sisters of Battle vehicle makes the Inquisition an interesting build for me. Will include:

Battle Sisters, Celestians, Grey knights (with Terminator options) for infantry
Rhinos, Immolators, Penitent Engine and Exorsist for Vehicles
Inquisitor (with Terminator option), Canoness and Living saint for commanders.
On a side note, The Tyranids and the Orks are two big races being skipped for now due to their heavy Melee focus. At the moment I am unable to do melee justice and these races will be re-visited when I feel confident that I can do so.
PLEASE BE AWARE VOTES FOR OTHER RACES ARE DISCOUNTED!!!!
On that note, it's time for me to leave you guys and get back on with work! Any questions and comments please leave below, thanks for taking the time to read all of this!
The Emperor Protects.