Hey Fellows!
Today I continue to inform you about our development progress.
Even 3 weeks ago you could construct a train and could hire a crew to defend... defend what? Now you have something to defend - we have finished the Cargo system!
Our game is not a tycoon, but when you travel across the U.S., you can take a contract for cargo delivery or simply purchase some goods to sell in other cities. For cargo transporting you need to have cargo carriages. Different cargo carriages has different empty places for goods and different armour. ...And yes, cargo can be damaged during a battle.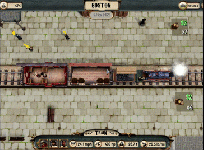 There are 8 kinds of goods and every good has its own properties. There is a common property of each good - it is "hit points", so it can be damaged and even destroyed - by an enemy, a fire, an explosion and so on. So you should place a cargo in the most protected parts of your train.
Food

Everyone needs food. This is a cheap product that does not have any special properties, but you can sell it everywhere.
Tobacco

Prices for tobacco are a bit higher comparing to food, but tobacco is quite flammable. Also it is very lightweight cargo.
Cotton

Usually prices for cotton are higher in the Northern parts of the U.S. and lower at the Southern ones. Cotton is very flammable and very lightweight.
Steel

Steel is very heavy so can reduce a speed of your train somehow. But it's inflammable and can not be damaged.
Oil

Has rather high price that makes a good profit out of selling it, but it is very flammable and oil barrels can be easily damaged or destroyed.
Fur

Very profitable cargo that usually can be purchased from native tribes. It is rather flammable.
Alcohol

Alcohol is a very profitable cargo that is also very fragile – it can be easily destroyed or damaged by fire. In some cities its the prohibited product.
Weapon
It is also a cargo with a very high price that is very dangerous and explosive. In some cities weapon trading is also prohibited, but it can give you some enormous amount of cash as the outcome.
Goods can be purchased in cities or in some small camps near the railroad or from native tribes. But a purchase does not mean anything – you need to deliver and sell the cargo first. During the transportation you have to defend it from native tribes, robbers and other not so good guys.
More about this I will tell you next time. Talk to you later!