Let's begin ....
These pictures show some of the effects it will have the game once finished. Personally, I love the view when it is night.
These images show us an example of the different phases of the weapons. In mmo, all weapons will be different from each other, sometimes in appearance, although it may be the case that repeated texture. But their hidden characteristics (durability, damage, etc) will be different. In mmo, the blacksmith will decide what amount of materials used to make weapons and this will be reflected in the hidden features. A weapon can be very beautiful, but can be broken in the first hit.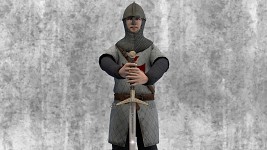 As you can see in the picture, the soldier has no shoulders. But do not worry, as we said at the day that was a character test. We are working in a highly customizable character. With this, we refer to customize the armor, the character itself, can only customize the face. It will be an animated face.
Finally, two new weapons. The break skulls and a saber. As I said in a comment, any weapon can be thrown, but the weight will influence the distance that can reach and damage. Anything you find on the stage and can be used as a weapon, you can use.
Kind regards!