The new The Amazing Fantastics demo is playable from your browser! Fight through waves of enemies in four distinct arenas as you command the world's next greatest superhero force. Encounter new enemies, new environments, and new heroes ahead of the game's release on Steam.

Characters that work together in battle can build up their SYNC. Once the SYNC meter for two teammates reaches 100%, these heroes can unleash a powerful move that can deal major damage, fully heal its users, or even provide buffs depending on how the two synced characters interact with one another. In the Amazing Fantastics combat demo, each combination of two heroes has a unique SYNC move. (Below: Singe and Vipera's SYNC move.)

Meet the Forest Guardian, half animal and half man. These hybrid creatures can be found in forests near certain African villages. Locals believe that these beasts were once slavers who were cursed by witches and are now forced to spend the rest of their days protecting those they once sought to exploit. Forest Guardians are extremely proficient with bows and arrows and know their forests better than their own names.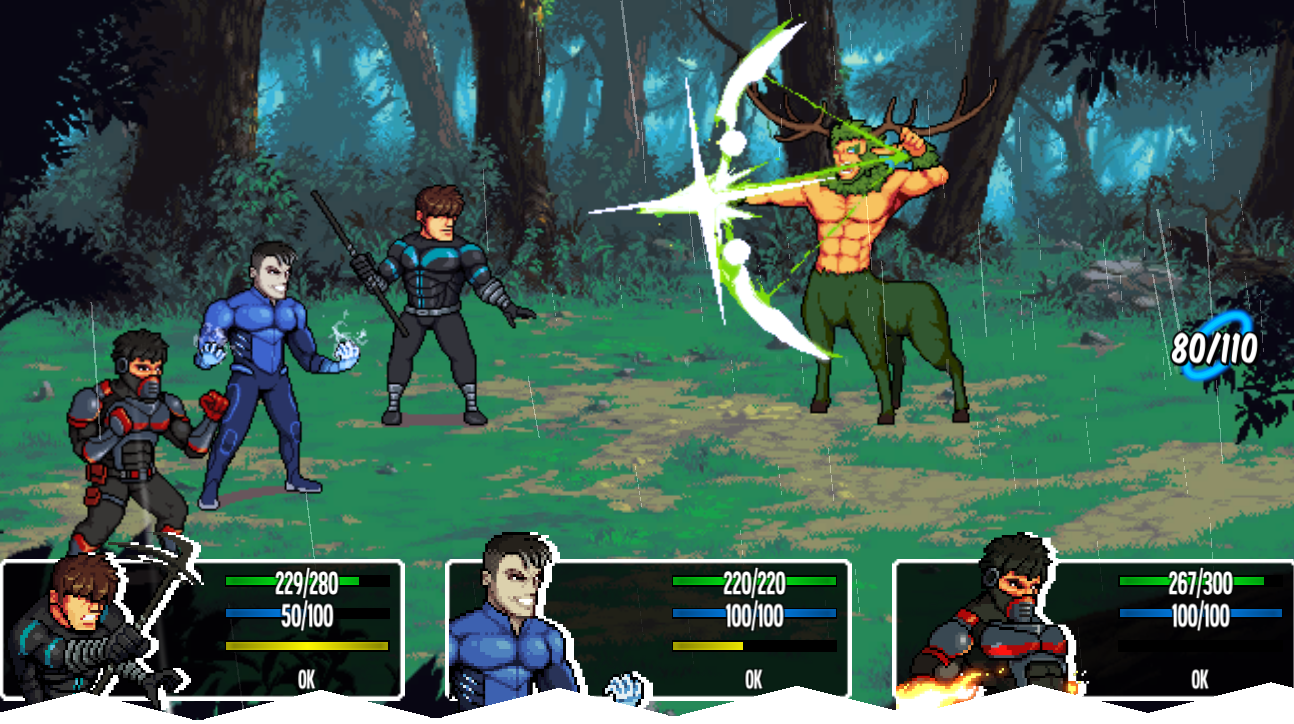 Play as Ice Age and Vipera for the first time.

Born into a small southern town wrought by hatred and violence, Vipera's father bestowed upon his daughter the skills needed to survive in a grim world. Many underestimate Vipera because of her beauty, but she is competent in battle and incredibly intelligent. Offense is her specialty and she is undoubtedly one of the most skilled martial artists in the entire city of Utopia. Although she may not be the biggest or strongest fighter around, her agility and mastery of hand-to-hand combat allows her to knock foes much larger than her into submission.

When he's not saving Utopia from danger, Ice Age can often be found putting his stunning good looks and irresistible charm to work on the ladies and gentlemen of the city. Somewhat of a legend in the club scene, Ice Age's hedonistic tendencies take a backseat to using his gift to protect the citizens of Utopia. Whether he's freezing his opponents or raising a wall of ice to protect his friends, Ice Age's varied moveset allows him to be useful both offensively and defensively. He's not the strongest or most durable hero in the city, but he is dynamic and will be able to fill a variety a roles in your league of heroes. And who wouldn't want that winning smile on their team?

Combat Demo - Fight waves of enemies in four unique arenas.
PC Demo - Play the prologue of The Amazing Fantastics. Features dungeons and combat.