Hey all! A quick update from me (Alex), i am working on the HUD currently as well as collaborating with Mikkel on a very important model, but more on that later.For now I'd like to proudly introduce our newest team member Zach Cox and go ahead and pass it right on to him!
Hey kids, glad to be here!
I'm Zach from not-always-sunny Florida, and I make maps. I've been working in Valve's Hammer Editor for about two years now, and I stumbled upon Tension a few months ago when I went looking for a mod to put my skills to use on. Alex and I have been bouncing ideas around in that time, and we've come up with some cool stuff that I think you're all going to like. Here's a few screenshots from a demo map he had me do:
I love what Cooper came up with with those big square rooms in the island map you saw way back in April, and I'm a huge fan of the architecture and aesthetics from Mirror's Edge. Pretty basic for now, but you can see my attempts to combine the two styles in the rounded-off balconies and mostly white texturing.
Being a demo map, the above is pretty simplistic and under-detailed, so I made this little rooftop vignette using a combination of Mikkel's fantastic models and textures and Valve's official ones to show off a bit of detailing: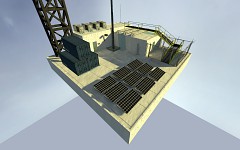 I whipped this up in about fifteen minutes, but I think it turned out pretty well for that amount of time - and the maps will only get better looking as I have more time and more models and textures to work with.
All over, I'm feeling pretty good about this mod I was just sent a full build yesterday and I can assure you the gameplay is absolutely fantastic (it does take some practice, but that's a good thing IMO). The quality of everyone's work is top-notch, and the guys are highly dedicated to what they do - they tell me I am, too :)
I think you can expect big things out of this little team of ours, keep tracking us and we'll see you next time! As always Comments/Feedback and Suggestions are encouraged!
- The Tension Team