Yes, so the latest alpha version of Sanctum got released a few days ago. This is basically the same version as got submitted for the Make Something Unreal Contest phase 4, but with the addition of multiple bug fixes and other minor improvements.
---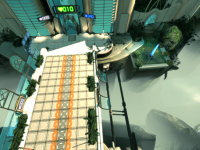 Here is Sanctum Alpha V.3:
Download
(Opens in new window)
---
Sanctum has progressed a huge deal since our last Alpha release in early June. The basic gameplay has been altered and improved in many different categories. Including a fully dynamic maze-building system, additional defensive structures and new enemies. The information available in the form of in-game displays has also been greatly improved to make the game much easier to understand. And this leads us to the second point.
We've now put together a longer (About 6 minutes) demonstration of Sanctum. Showing off actual gameplay. It hastily but quite precisely demonstrates how Sanctum works, showing off features like:
Available information (Information Displays)
Defensive turrets and their uses
Building of a maze and its structures
Hand-held weapons and their usage
Basic enemy features
Generic strategy
---


Here's the Sanctum Basic Gameplay Demonstration:
Link
(Opens in new window)
---
This video is of use for anyone interested but is mostly focused towards people that are unable to play the actual game for themselves, but who are still interested in the product. The video is in no way a complete manual for the game but instead clarifies the basic features.
We're happy to hear about your feedback and if there is interest in more of these kinds of videos or if you have any better suggestions or requests. And for this purpose we've also opened up the Sanctum forum, available on our project page: (Sanctumgame.com)
We invite you all to share you experiences and suggestions you might have on your mind. Or just speak freely about whatever you have experienced or thought about, relating to Sanctum.