Hello again,
Exosoldier22 here with some very interesting news. Fly now has 2 new members. dvlstx has joined the team as a skilled modeler. He has made 2 models so far for the mod and they can be seen in the images section of the mod. We also have to introduce my personal friend RunLikeHell420 also known as Steve. He's a friend from school and a talented musician. He was the one who created the main theme music for the opening and menu of Fly. We still need people though. Especially a good coder, without a coder this mod won't be possible. So if you or if you know someone who is a coder send them our way. It would be greatly appreciated. But other than coders we still need a concept artist so dvlstx will have something to go on.
Here's dvlstx models skinned by me: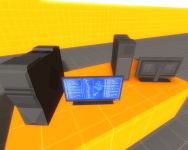 Also here is the main track that Steve made for us:

Thank you everyone for your support. I never thought this mod would get popular with the community.