Welcome to yet another update! Lately we've expanded our team, I'd like to welcome Jeremy to the team, 3D artist & unreal mapper, he does some pretty interesting gameplay work and 3D art assets.
We're looking for more 2D and 3D artists to join our team, we require portfolio with all submissions.
This update around we're going to introduce the 3rd and 4th classes to be unveiled - the Ghost and the temporarily titled shotgun class. The Ghost wields a fully automatic sub-machine gun (see concept art below) - the ghost is a swift, quiet killer designed to be an insurgent and flank as his larger, stronger team mates such as the assault and shotgun classes attack directly. The ghost works alone until its time to plant or defuse bombs - which he can perform faster than other classes (it still takes some time compared to other games, where the assault class will have to defend the bomb runner with a shield / covering fire) He can also use various jamming equipment on his gun to disturb enemy communications and equipment. More details will be released as the class is developed.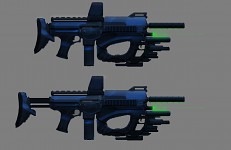 Next up in the update is the shotgun class (working name) - His semi automatic shotgun has a rotating grenade launcher attachment that can fire various grenades and explosives. One grenade is a smoke grenade that confuses players and causes visual distortion, another is an acid that burns and slows players, useful for jamming doorways for long periods of time or snagging and killing running players. These gameplay mechanic ideas are still being tinkered with but most of the balancing will come as we finish the level and get on programming the class mechanics.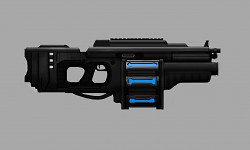 We're starting to get assets into the unreal engine and working on defining our visual style of mapping. We're working as steadily as possible and have growing ambitions but keep sight of our immediate goals. As new people join and bring new talent to the growing table our ideas solidify, we're excited to present the Turbulence universe to the community.
Last but not least we'll leave you with a set piece concept - we hope you enjoy sniping from on high or firing grenades across the map from up here =]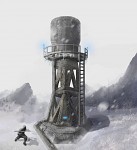 We're still taking applications through PM.