By Reto.Dave, Environment/Props/Concept Artist
In 2011 we went on a company research-and-fun-trip to Munster, Germany, more exactly to the Panzer Museum located in Munster.
After spending some good hours looking at armored vehicles and the likes we went to a local restaurant called "Zur Wassermühle" aka "The watermill", and what a place it was! An overload of traditional German food and beers – couldn't have been much better!
Next to the restaurant was a watermill, hence the name, and the reason for me writing this blog post is (besides from telling you all about the Panzer-trip more then a year ago ;), that Reto.Fleck and I (Reto.dave) are designing a new level for the game. Fleck had an idea about a watermill as the main capture point for the level and we remembered the watermill in Munster. So we decided to use that exact watermill as inspiration for our own :)

This image features the real watermill from the resturant in Munster, the one in the middle is from XSI and the last one is ingame.
S
till tweaking on the ingame textures.
I've attached a couple of screenshots from this level and the watermill, but please have in mind, that everything is in a very early state (don't pay to much attention on intersecting objects and the like). All are work in progress, but I hope you will enjoy it anyhow :)
The plan is to create a fun and nice looking, idyllic location, where the main capture area can be accessed through the water or by land. The country side surroundings with forest and trees dividing the areas. This map is also perfect for large scaled tank battles, due to the size and mixture of open areas and deep forests.
As always: suggestion, questions and great ideas are more then welcome! :)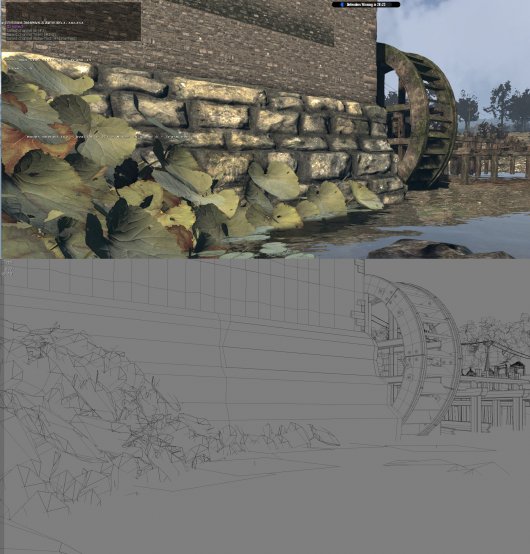 This screenshot shows a bit of the mill and a displacement texture we are working on for the foundation of the watermill building.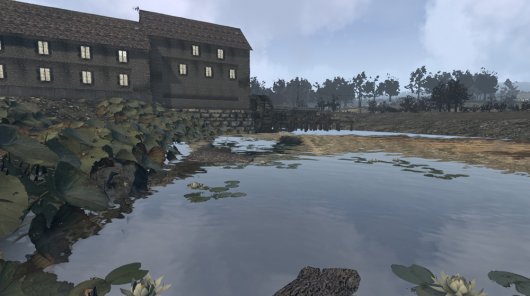 An overview of the area in its state right now, again all is work in progress.
Signing off
Reto.dave and Reto.Fleck
Sign up for an Alpha-key here!