KarBOOM 0.2.2 is now available for download at the IndieDB KarBOOM page (if the download has already been authorised) or at the KarBOOM page on my own website (which always has the latest version).
This version adds a new mutator, Hold the Flag. With this mutator activated, a flag (if you can call it that) sits in the arena waiting to be picked up by any car that runs it over. Whoever holds the flag gets a constant stream of points added to their score, but the flag will be lost to another car at the slightest bump.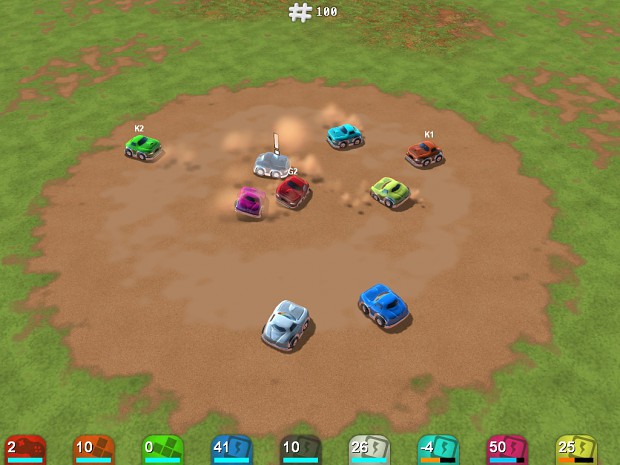 KarBOOM 0.2.2 also introduces new explosion effects, automatically saves settings, adds numerous tweaks to the UI and controls to make things more comfortable, and squishes a bucketload of bugs. The full change-list is included in the README, so download it now and get cracking!
Also, there are still more than 250 free upgraded accounts available at time of writing. What's an upgraded account? It lets you play online against other players (for those who only want/need shoulder-to-shoulder multiplayer, up to 4 players are supported on one keyboard, or up to 8 with gamepads). I'm giving away free upgrades on a first-come first-served basis to kick-start KarBOOM's community and give players a reason to buy in future. Who wants to pay for an online game no one else is playing, right?
And, yes, the download and offline play is all still completely free.
More information on the latest release can be found at the announcements forum at KarBOOM.net, of which you're already a member if you have an account for online play.
Let me know what you think! Your feedback shapes KarBOOM's development! Give me your feedback here and/or at KarBOOM's official forum.