Greetings! Once again I am pleased to announce for fellow Command & Conquer fans the arrival of the latest version of the New Horizons mod for Red Alert 2: Yuri's Revenge, that being Version 11B. Version 11 was a Huge release (supplemented as Version 11A), so I do recommend reading the article on it, and even previous ones should you be interested.
Rebalance/Overhaul
First and foremost, Version 11B implements a long-planned overhaul/rebalance to the game. This is done in a variety of ways, some using Ares features, while others are done via in-game economic terms (making some very powerful items more expensive for instance). Many units, and even some buildings now have tweaked weapon systems, which utilise a customised parameters that reflect the character of the units. For example, some weapons will fire a clip-style amount of ammunition, which once fired will take longer to reload. This will be most obvious on units with ammunition indicators, such as now visible on some ships. Some laser weapons will now fire at a certain rate if used moderately, but if over-strained will take longer to recharge and fire (simulating overheating). Some missile units which used to fire continuously at a set rate Forever will now have to wait until a replenishment takes place. Many units will have the exact same ammunition load as reflected in the real-life units they are based on (such as the S-400 system carrying 4 missiles, which once expended will take time to reload). Many of these changes are subtle, and may be hard to notice on some units more than others, but overall I am very happy with the balance achieved.
Toggle Power
This is a feature reactivated by Ares, which allows for the manual shut-down or re-activation of individual buildings. I had already implemented this in the mod for use by the AI, however no key had been assigned for use by the player. I found this annoying when I captured an enemy building, only to see they had just deactivated it, and I had no button/key to turn it back on. Anyone can assign a key for this command, I had just forgotten to do that. But I have now assigned it as letter 'O' (think in electrical power terms, O/I for 'off and on'). Now, if you hit 'O', you will have a special cursor you can use to disable or enable individual buildings (where applicable), temporarily shutting them down (and thus their load on your power grid). This can be useful in desperate situations when you lack power, or need a specific defence to function.
Here is an example of a deactivated tesla coil (the one on the right), in contrast with the online one (on the left)). Note the symbol on the ofline one that signifies it's status;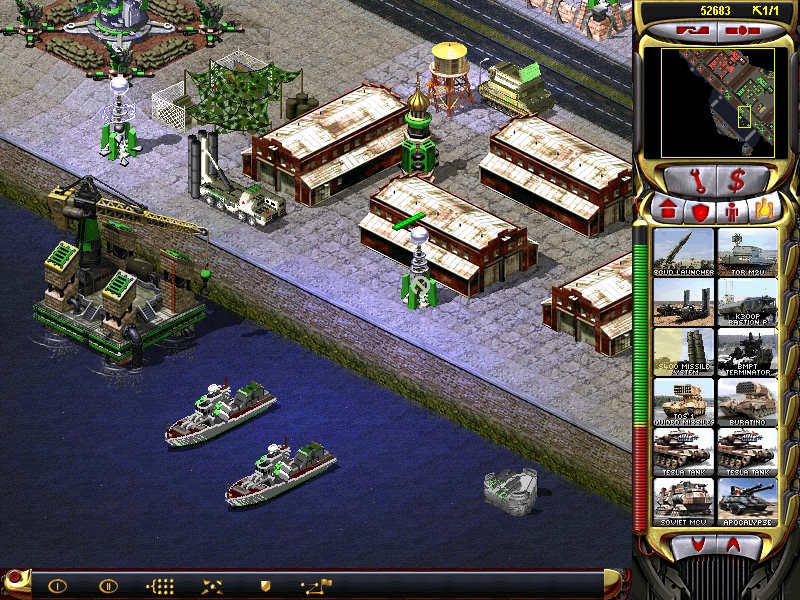 Expanded Chinese Units
Secondly, I have expanded the units available to the playable Chinese country, making them much more complete than before. So what juicy new units have I added?
PZH-89 MLRS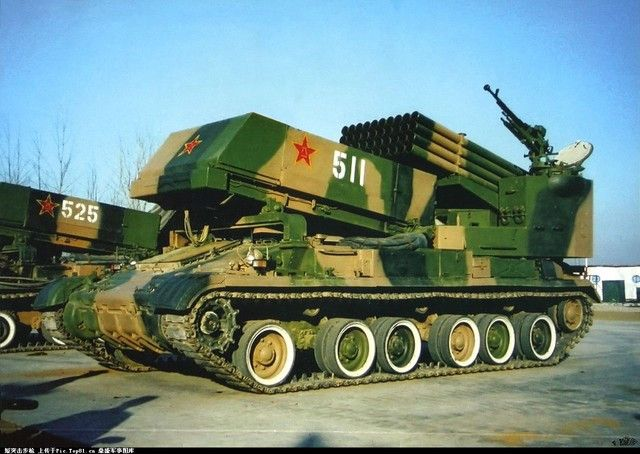 This is pretty much the Chinese equivalent of the Russian/Soviet TOS-1A multiple rocket launch system, capable of launching a volley of 40 rockets over a designated area. Can be devastatingly effective in groups, however it is best they are protected, as they are not heavily armoured. Credit goes specifically to 'Midian-P' from PPM, for making the original model voxel for this unit.
ZBL-09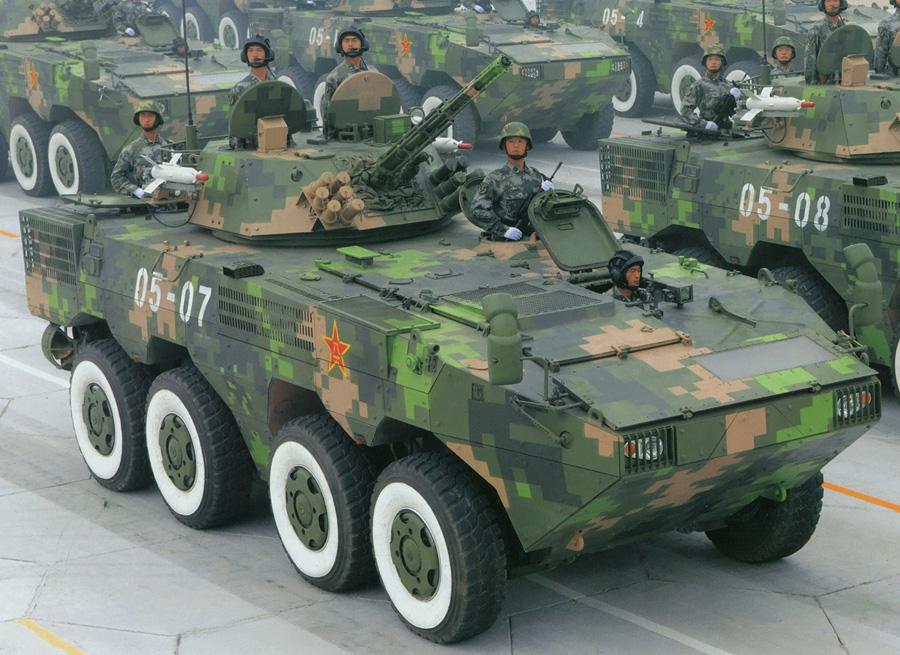 Well, after making the BTR-82A's for the Soviet/CSTO faction, I felt that the Chinese (thus far lacking an A.P.C./I.F.V. in the mod) deserved a similar option from their inventory. And so, I have implemented the ZBL-09, and even made custom missile projectiles for the turret side-mounted ATGM's. I made this model by heavily modifying 'Midian-P's' voxel model for the VN-1 A.P.C., armed with a 30mm autocannon, as well as 2 ATGM's, making it fairly well armed.
Type-95 SPAAA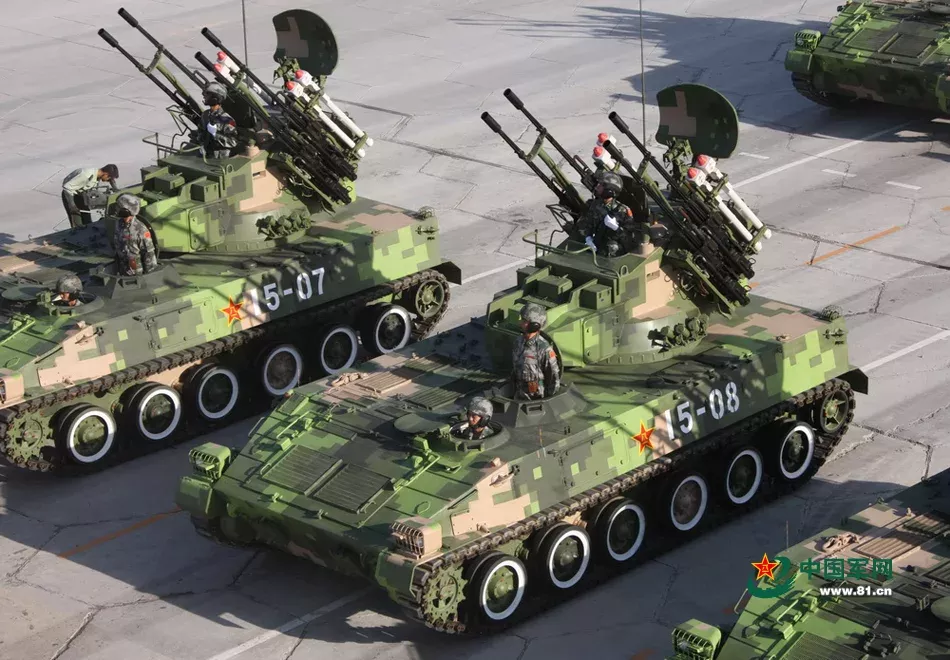 After lacking in mobile air defence units, especially when compared to the other playable countries, I finally added the Type-95 Self Propelled Anti Aircraft Artillery piece. This took me much time to model to a standard I was happy with, giving it an actual camouflage paint scheme used by the People's Liberation Army. It's not the first time I've used camouflages / paint schemes that reflect real-life counterparts, and I only hope it gets appreciated! Anyway, this thing is armed with 4x 25mm autocannons, as well as 4 homing missiles. Enjoy!
Here is how these new units now look in-game;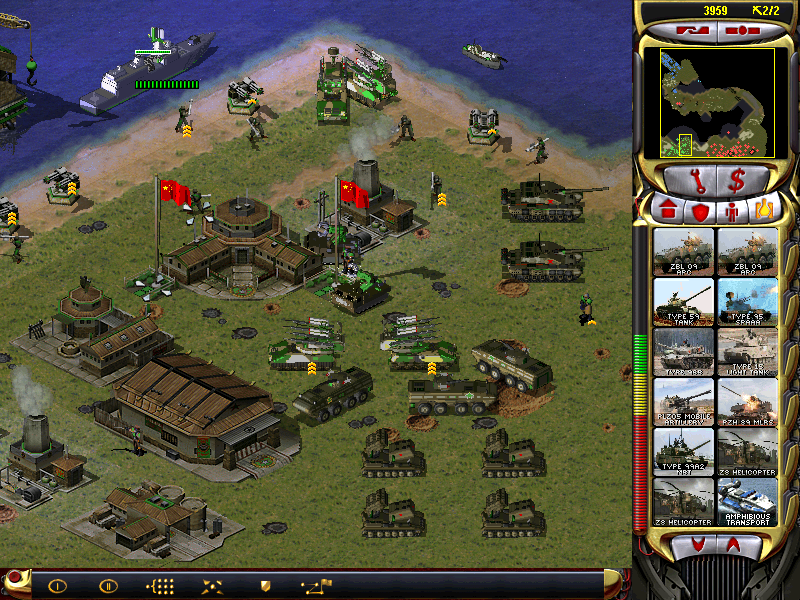 Notice on the bottom right of the screenshot, there are 4 PZH-89's, 3 ZBL-09's above them, 2 Type-95 SPAAA's above those, but no partridge in a pear tree above that.
Fixes!
Previously, the only known error was a crash that occurred during the transition between completing the second New Horizons campaign mission, and starting the third. This has now been fixed. Thanks to 1 small missing line of code. I also fixed an original problem in the game, that being of missing art for the mini mall in certain theatres. Also, thanks to the tip-off of a guest comment, I have fixed some missing art for the Chinese battle bunkers.
Miscellaneous:
And of course last but not least, the mysterious Miscellaneous changes, some of which are mundane, or I simply haven't kept track of (it can be easy to forget things I've changed!). This may include (but not limited to) AI improvements (somebody has to teach the AI to use the new stuff, you know!), neatening/trimming code, updating the 2 custom game modes I made (Mechanised Divisions, and Infantry Divisions modes), minor tweaks to a map or two, and some light debugging.
I sincerely hope you enjoy all the new additions, and have fun!
Command & Conquer Westwood Fans
Red Alert 2 YR: New Horizons
C&C: Yuri's Revenge
C&C: Red Alert 2