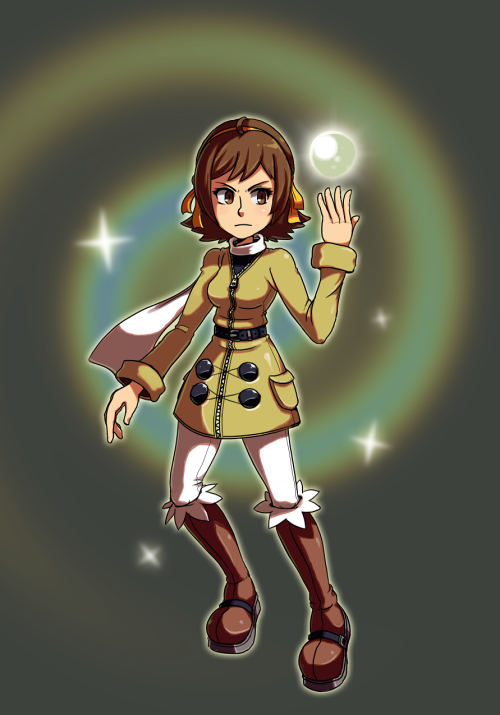 It's been a while since I last updated. Sorry about that! Anyways, I finally found some time to dev so here's some new updates.
First of all, the Lab Dungeon is almost complete. The dungeon boss is here,Stormera, the Titan of Lightning. I'm not quite finished with him yet but it is coming along well.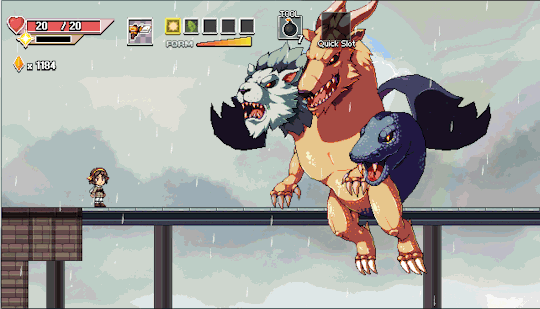 But's not only lightning he's capable of using. Each head is capable of using a different aspect of weather. The Goat is capable of using Lightning attacks, the Lion fires off gusts of wind, and the Snake fires off water based attacks.
After the fight, Rose will find a Titan Essence.
A Titan Essence is a sphere containing traces of the Titan's power. Rose is able to use these to take on alternate forms, each having their own drawbacks and strengths.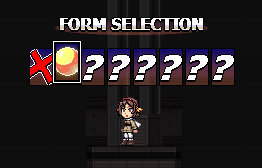 The one you find on the lightning titan is called Raging Storm! Let's go ahead and turn it on. You can access the Form Selection Menu by equipping the Form tool in the tool menu.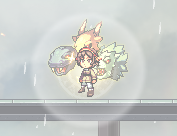 Woosh!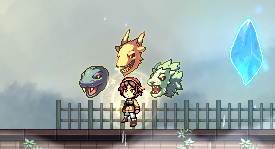 And there you have it. Through some science or magic, Rose has gained access to the power of her fallen foe.

It won't last forever though. While remaining in an alternate form, the Form Meter will drop until it is empty, and when it reaches zero you will change back. Also, you lose access to other forms of attack and some tools. Instead, the name of the form will be displayed. But what will you gain?

Alternate attacks - the alternate attacks are unique from your regular attacks, and may be necessary is solving some puzzles.

Changed Abilities - For example, you are unable to become paralyzed while in Raging Storm. Also while in Raging Storm, using mastery over air, you jump higher and fall slower and the Flame Burst has been replaced with a faster variant that covers a larger distance.

Exclusive Abilities - For example, while in Raging Storm, the heads of Stormera that you summon will follow you around and fire electric pulses at surrounding enemies. Having three heads makes the damage add up!

HYPER attacks - Hyper attacks are the ultimate ability for all forms. The HYPER Meter is an extension of the regular charge meter, so it takes a little while to charge up. After it is filled, you simply release the fire button like normal and unleash your ultimate attack!
(Here's a link in case this isn't showing up: Postimg.org )
Each of these energy bolts deals high damage to surrounding enemies that happen to touch it. However, after using a HYPER attack, the form meter drops to zero, so time your attack well.
And that's all I have this time folks. Hopefully the next update doesn't take too long!
Thanks for checking out my post!