So we have an amazing new concept artist, ZitaX. He has done work on a few mods and small projects before.
---
Dacard of Deviant Art has given his permission happily to let us use his concept as the main concept for the Generic Nazi Soldier.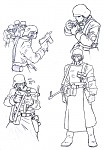 ---
We also have a few new weapon concepts!
---
A U.N. sniper! So far we have no name for it! Fell free to leave a name in the comments and we may just choose it!

A U.N. Pistol, yes very similar to the Bereta.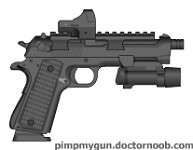 ---
Now, onto our new talented composer! His name is Justin Cox! Hes producing the main menu piece of the game! The piece is titled "Total Damnation"! Checkout his work at
www.justinkcox.com
---
Now for the terrible news, I, MadMonkey119 am going on vacation for a TWO weeks! Yes, two full weeks! I know your asking, "How can I live without an update for TWO weeks" well the answer is "YOU CANT" We will continue to update it just wont be me doing it! For now, J*Rod will be handling the job applications.
---
---
---