A new installment of Assassin's Creed - and quite surprisingly, the story of Ezio still continues! This time developers take him to Constantinople, to the very heart of the Ottoman Empire.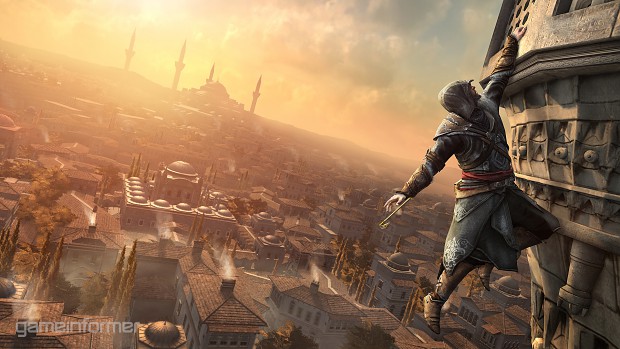 To find out more, you have two options:
1) buying Game Informer on May 13
2) waiting patiently for the coming E3 expo (June 7-9)
Either way, sooner or later, you'll find out about the new AC that is due to be released around this November.
You can check out temporary Game Informer's webpage and the Montreal Gazette site for some info:
Gameinformer.com
Blogs.montrealgazette.com
An excerpt from Montreal Gazette:
"In Assassin's Creed Revelations, master assassin Ezio Auditore walks in the footsteps of his legendary mentor, Altaïr, on a journey of discovery and revelation," the company said in a statement. "It is a perilous path – one that will take Ezio to Constantinople, the heart of theOttoman Empire, where a growing army of Templars threatens to destabilize the region.

"In addition to Ezio's award-winning story, the acclaimed online multiplayer experience returns, refined and expanded, with more modes, more maps and more characters that allow players to test their assassin skills against others from around the world. The latest chapter in the Assassin's Creed saga also includes revolutionary gameplay, allowing players to manipulate the construct of Desmond's memories and the Animus to decipher the mysteries of his past and gain insight into the future."
(Source: Blogs.montrealgazette.com )