Neofeud continues to amass content, wealth, prestige, government officials, geosynchronous space stations and fans alike! Monopoly on the Moddb SRR modding community is nigh, my illustrious, assortedly-titled, high-born brethren!
But corporate world-domination aside, much progress has been made over these past dozens of days. For starters, the hallowed Neofeud game-design-document (AKA "The Divine Codex") is now 16,844 words worth of sordid backstory, excrutiatingly detailed character development, and mindblowingly riveting plotting! (*Raucus golf-clap applause*)
Secondly, Le Galerie D'art De Neofeud (Art Assets) have grown by leaps and bounds, with two quasi-professional artistes of the Wacom intuos variety (including myself) working on portraiture as well as environmental trappings.
Thirdly, I am positively *electrified* to inform you that we have our first fully functional, professionally decorated, up-to-federal-building-codes Level up and inhabited by exceptionally beautiful, unusually tall, mostly white and male billionaires! (*Reprise of golf-clap applause*)
But in all seriousness: the mod is coming along well, all members and contributors are having a ball working on it, and we show no signs of stopping. If you're interested in joining this Game of Thrones-inspired Shadowrun Returns modification, we'd love to have you!
Finally cracked the dialog system in Shadowrun Returns here. First Neofeud conversation in-game, check!
GR (one of our lead artists) has also been tinkering with custom portraits (the above is Lynn Telestrian, shanghaied from the vanilla SRR campaign, Dead Man's Switch). The character is loosely sprung from the high, asymmetrically arched brow of Cersei Lannister from Game of Thrones, generipped with Piper Chapman from Orange Is The New Black.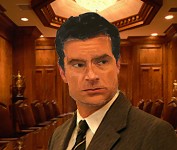 Clovis Stanniston I, Esquire-turned-Neofeudal-Lord The protagonist, and player character, of our postmodern and cybernetically gilded Greek Tragedy. Clovis Stanniston I, Virgin CEO of Stanniston Corporation, suffering boardroom-shock.
"[Herodotus claps a heavy hand on your shoulder, the knotty, rheumatic knuckles like boulders. Cadaver-thin fingers dig into your clavicle with a resolute, unshakable rigor mortis. "This necropolis of an empire is yours, old sport. Godspeed." You suddenly find it difficult to breathe beneath this newly thrust greatness, and discover a new and unexpected empathy for the back ache of Atlas, the Titan doomed to hold the world up for eternity.]"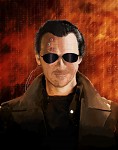 He's decked like the goth-superman protagonist of an early-noughties action film or single-A video game, who's been unemployed, boozing and smoking away his dwindling royalties for the past half-century. You haven't seen your brother Drake in years, and now you're wishing you hadn't.
(Character from my upcoming Shadowrun UGC, Neofeud.)