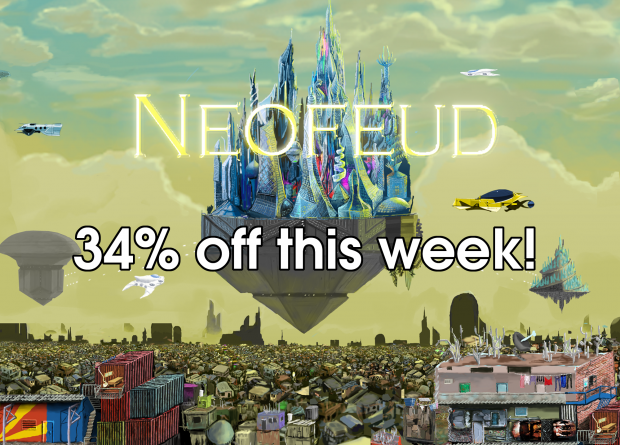 Neofeud is just $9.90 for the next week! If you've been considering picking it up, now would be a great time!
Here are some other recent reviews that have just come in on Neofeud:
A Diamond Of Storytelling In The Scrap Pile

"When I play a game, I play to be compelled or immersed in some way. The game has to dig its claws in and drag me in. Walking away has to be difficult or that's exactly what I'll do. Neofeud grabbed me in just that way through its gripping mastery of storytelling, akin to how last I binged on episodes of Game of Thrones.

Neofeud is a point-and-click game set in a sci-fi dystopia borne of the minds of every prominent science fiction writer from the past century, from H.R. Giger to Ridley Scott. The result is a disturbing yet strangly familiar dystopian society in which social inequality is systemic, the top one percent have their own one percent, and the birth of A.I has resulted in a massive population of unemployed sentient robots. Sound interesting? We're only just dipping our toes.

Beginning by introducing the main character of the story, an ex-cop and currently social worker named Karl Carbon, the story of Neofeud quickly explodes into a story rife with psuedoscience and more twists than an M. Night Shamlyan movie. As a single conspiracy unfolds, others follow, creating a story layered so deep that by the halfway mark of Neofeud's potential 15-hour game time I found myself questioning characters motives even more than the main character of the game itself.

Past endless conspiracies and a spiraling story, the characters of Neofeud are developed so much more than characters in nearly any other game I've recently played. Karl and the cast that he interacts with are human to a tee. Interactions with them are immersive and real, a necessity when a majority of the game is dialogue."
Neofeud is science fiction at it's most raw and visceral. [...]
Neofeud is the debut game of native Hawaiian, Christian Miller. It's an ambitious project, drawing on personal experience as a STEM teacher for underprivileged kids in Honolulu as well as a wide array of popular sci-fi films and books. The aesthetic is heavily skewed towards Blade Runner or The Fifth Element, while the story is reminiscent of Fritz Lang's Metropolis and the film version of I, Robot.
Players take on the role of Karl Carbon, a police officer turned social worker. I was immediately hooked by this detail. I had expected to play a character akin to Decker in Blade Runner; a sort of rogue-cop with good intentions. There are definitely cop-like qualities about Carbon, but he's a social worker through and through. And this makes for a compelling story, and some truly heartbreaking gameplay.
Drawing from personal experience, Miller has delivered us a story that is so much more than "humans vs. automations." Carbon has cybernetic enhancements, but they're obsolete and he can't afford to replace them. He works with AIs and robotic entities that society has deemed "defective" and "unhireable." He understands what it's like to be cast aside and denied resources at every turn.
Neofeud takes place in a dystopian future where faulty sentient robots and failed human hybrids form the bottom layer of society, while neofeudal lords live carefree in luxurious floating cities. The extensive storyline is very political, but also full of action and really entertaining. This game is an impressive piece of work, since it's quite excellent on many facets.
[...]
This spectacular and complex story will take at least 12 hours to play through, and the writing is excellent and enjoyable. The characters are fun, the setting is really interesting so you'll want to learn more about it, and there's always so much happening which makes you want to continue playing to see where the story will take you next.
In addition, check out this awesome article on Silver Spook Games and Neofeud in Hawaii print publication Ka Wai Ola!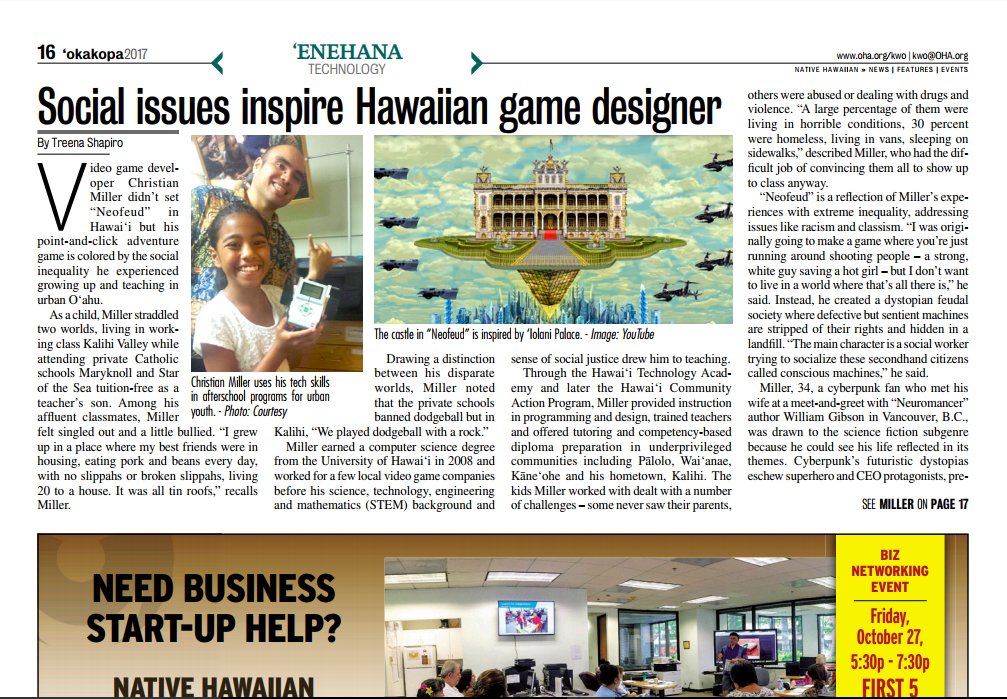 This article is actually included in the Honolulu Star Advertiser, the biggest Hawaii newspaper, which is a pretty cool honor!
You can see the rest of the article here: Twitter.com
Want to see how I make these games? Come hang out! I livestream every Saturday around 4 PM EDT!